This article is more than 1 year old
Reg hardware hunter spots HP SlateBook 14 Android in the wild
Currys serves up festive fare
Pics July isn't over yet and so it follows, neither is, er, marketing Christmas*. This time Currys/PC World was playing host to this summer PR tech fest that showcases products that'll be in stores leading up to festive season.
Push aside the wrapping paper and ribbons and with any luck you'll spot an early outing of a product or three that have yet to hit the reviews circuit.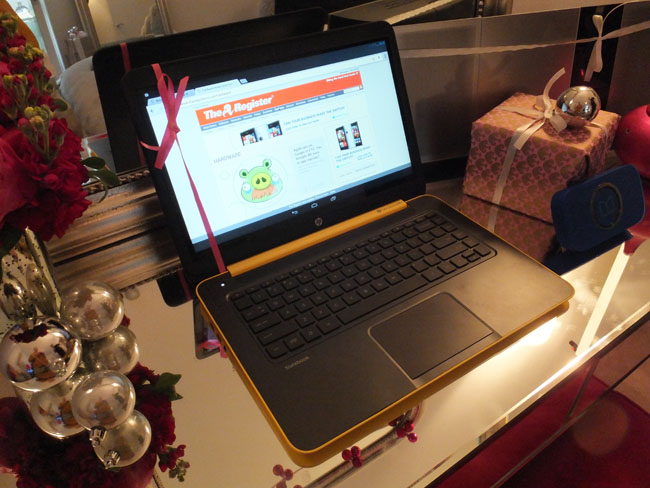 HP's SlateBook 14 gets the festive treatment
In this respect, Currys didn't disappoint with HP's SlateBook 14 lingering in the boudoir zone. This is HP's first Android laptop and features a 14-inch, full HD touchscreen display. It currently runs Jelly Bean Android, which means the touch element is a lot more intuitive than Microsoft's fondlebook approach with Windows 8.

A microSD card slot for storage expansion
Running the show is an Nvidia Tegra 4, quad-core ARM processor with 2GB of RAM and 32GB SSD although the chap from Curry's said it was a 64GB SSD, which is an option, so whether this is the configuration it intends to sell will no doubt impact on price, which is currently showing as £329 for the 32GB model on HP's site.
Dressed up in yellow and black, the SlateBook 14 is quite distinct from HP's coloured Chromebook 14 range and there are a number some styling differences beyond CPU and RAM. For a start, the SlateBook sports Beats Audio, but will those days be numbered given that Apple is the audio kit firm's new owner?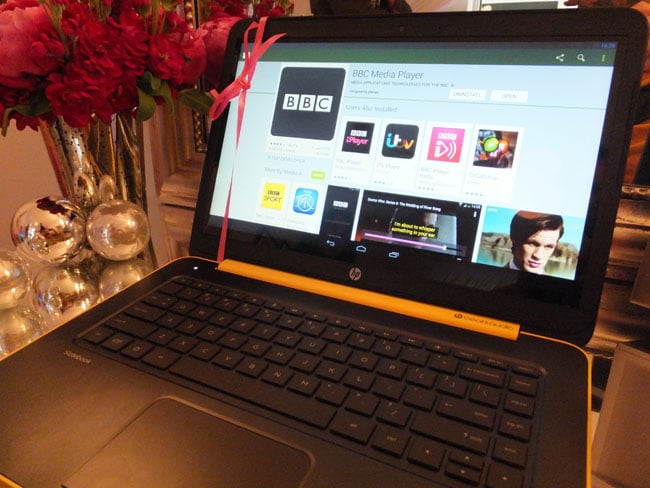 Radio streaming suggested those Beats Audio speakers weren't that special, just loud
I listened to BBC 6 Music streaming on the SlateBook 14 to get an idea of the sound, but really, it's just a case just low-fi laptop speakers again, even if there are four of them, which probably explains why the output could, at least, get rather loud. The only sound enhancement in the Android settings was supplied by DTS, so where the Beats Audio tech tweaks linger, I'm not so sure.
The keys on the chiclet keyboard were a tad smaller than most laptops I've seen of late, but both the spacing and feel was good and typing on Kingsoft Office was easy enough with few mistakes. There are two USB 2.0 ports and one USB 3.0, HDMI, a mic/headphone combo jack socket and a microSD card slot. The 3-cell 32WHr battery is supposed to be good for nine hours and the Curry's chap had been using it on and off all day reckoned that was about right.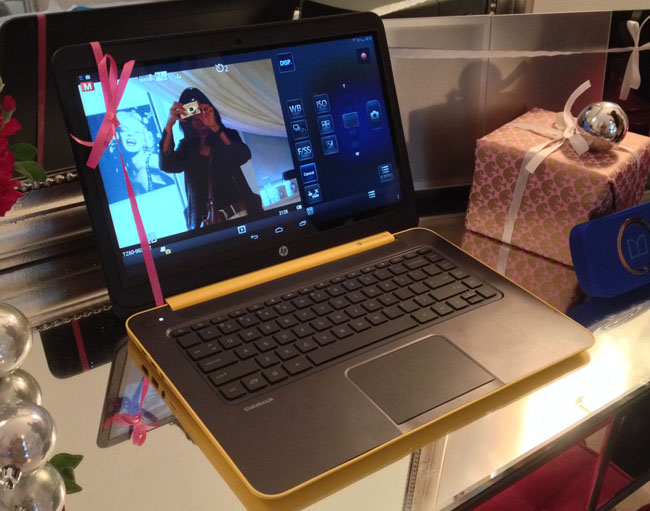 Android app simplifies linking to a remote camera snapping another camera user
He was more keen to show off the app side of things, with a Panasonic Lumix TZ-60 linked up to the SlateBook 14 with a Wi-Fi direct connection, enabling remote control of the camera from the laptop touchscreen. It's not exactly new, but the point was to illustrate how apps simplify these tasks in a way you don't typically experience on a conventional laptop OS.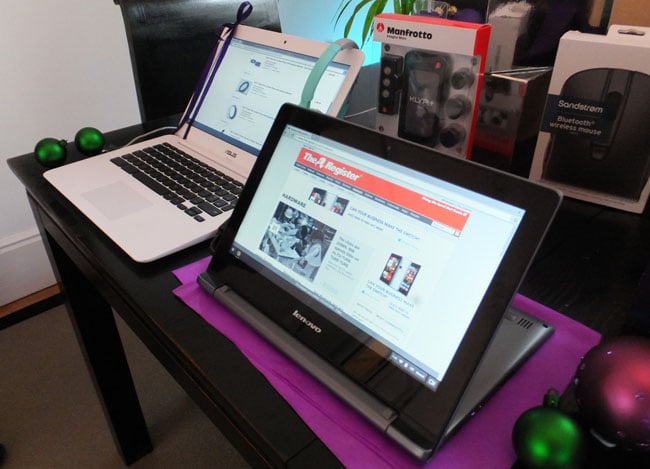 Lenovo's N20p bendy touchscreen Chromebook alongside the Asus C300m Chromebook
Also on show was Lenovo's N20p Chromebook, which grabs features from the company's Yoga range. However, it can't completely fold over back to back to take on tablet form. Instead, it can flip round, presentation-style, up to 300 degrees. As appearances go, it's arguably the most business-like Chromebook you'll find and features an 11.6-inch 1366x 768-pixel touchscreen, up to 4GB of RAM and a 16GB SSD. In keeping with all the latest Chromebooks, an Intel Celeron CPU runs the show.
* Marketing Christmas takes place in July ... to help editorial teams putting together Xmas specials to plan their content.