NEW Raspberry Pi B+, NOW with - count them - FOUR USB ports
Composite vid socket binned as GPIO sprouts new pins
---
A new Raspberry Pi model has emerged, rectifying one of the most common gripes directed at its predecessors: it now comes complete with four USB 2.0 ports.
The Raspberry Pi B+ was announced this morning, but had already gone on sale a few hours earlier in Australia.
The machine was also the subject of a frenzied weekend of speculation after this post by the operator of the ZL Ham website, claiming that he received a Pi B+ one from Pi reseller Element 14. The new machine also popped up on RS Components' German site over the weekend.
The Pi foundation has since made things official.
The data sheet [PDF] for the new model tells us that it boasts the same Broadcom BCM2835 SoC and 700 MHz Low Power ARM1176JZFS "applications processor" as its predecessor. The VideoCore IV Multimedia Co-Processor also remains unchanged, as does the 512MB of RAM.
The main changes appear to be an extra two USB 2.0 slots, for a total of four, and a Micro SD card slot instead of the larger SD card. The GPIO connector is now a 2x20 affair. A new audio circuit "incorporates a dedicated low-noise power supply" to clean up sound, while power consumption is down.
A notable omission is Composite RCA video connector. The computer has also changed size, now offering dimensions of 85 x 56 x 17mm compared to the model B's 85.6 x 53.98 x 17mm. Buyers are advised that the new size means old cases won't fit, while some daughterboards may also be in trouble.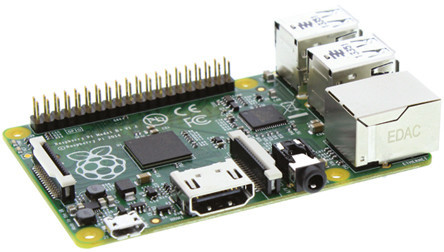 The Raspberry Pi B+
The extra USB ports will be welcome to many, as the rather useful addition of a keyboard and mouse previously occupied all of previous Pi's easy-to-use expansion options.
Intriguingly, Pi founder Eben Upton says " to ensure continuity of supply for our industrial customers we'll be keeping Model B in production for as long as there's demand for it."
Industrial customers? That wasn't in the original Pi plan!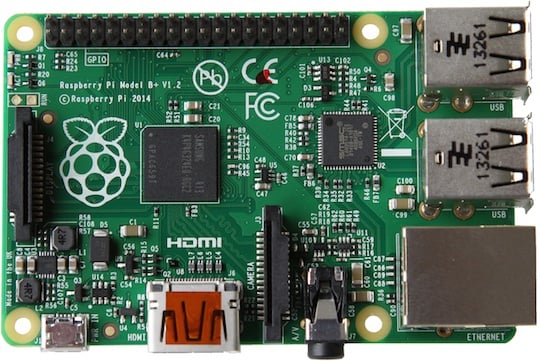 The Raspberry Pi B+ circuit board
The model B+ has the same $US35 price as its predecessor. RS Online has the device on sale at €29.90 and £26.00. The Australian price is $AUD48.73. Supply may not be enormous: Raspberry Pi Australia says it has 100 of the machines in stock and says they'll ship in the next three days. ®