This article is more than 1 year old
Smashing, groovy, baby – yay, capitalism! Digital Ocean flogs Brit VMs
Plucky Linux cloud startup floats where Amazon fears to tread: Slough
Cheap-as-a-chips virtual-machine hoster Digital Ocean has put roots down in the UK by opening up its first bit barn in Blighty.
The US cloud company, based in New York, said on Tuesday that it had opened the doors on its "London" (LON1) data center.
Pricing for its Linux VMs hosted in England is the same as the pricing at Digital Ocean's other facilities: five bucks a month gets you a single CPU server with 512MB of RAM, 20GB of SSD storage and 1TB of network transfer. There are nine configurations going all the way up to a 20 CPU machine with 64GB of RAM, 640GB of SSD storage and 9TB of transfer for $640 a month.
Though its branding for the new server warehouse featured London landmarks such as Big Ben, the London Eye, Tower Bridge, the shapely Gherkin, and St Paul's Cathedral, El Reg must note that the servers are in Slough – not London.
Specifically, Equinix's LD5 data center – which has a number of security measures including a "ballistic glass mantrap and air lock". It's a little beyond the M25 enclosing the capital:
LON1 is Digital Ocean's seventh data center; it has two facilities in New York, two in Amsterdam, one in San Francisco, and one in Singapore.
This compares with much larger rivals Amazon, Google and Microsoft which have all based their European bit barns in Ireland (Amazon, Google, Microsoft) and on the mainland (Amazon, Microsoft). We reckon they've stayed out of the mainland UK because getting hold of anywhere from 20 megawatts to 50 megawatts cheaply while staying near decent connectivity points is tricky, but they haven't told us.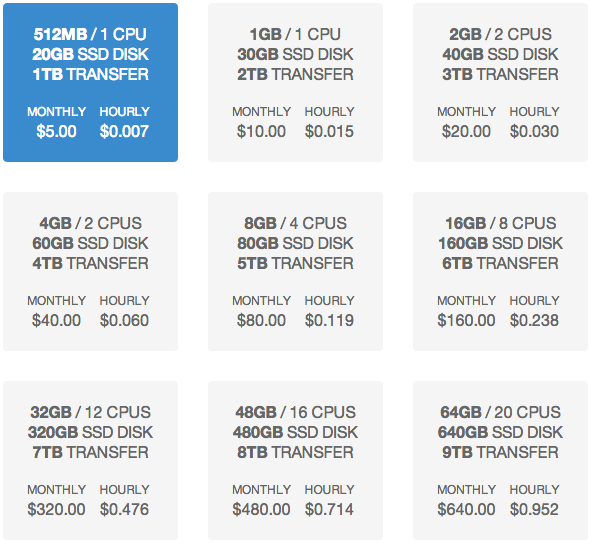 Digital Ocean's pricing for all locations (click for more)
The LON1 facility is "twice the size of our normal initial footprint," said Digital Ocean chief executive Ben Uretsky in a chat with The Register.
The company anticipates a lot of demand for the servers, he said, and added: "We feel very confident that we can support whatever use case our users put on the product." Most of Digital Ocean's equipment is Dell and SuperMicro servers, he said, and the company has developed its own proprietary cluster manager rather than using tech like OpenStack.
"While there are a lot of tools out there we don't see too many success stories of people that have taken those tools and leveraged them in a commercial format," Uretsky explained.
The greatest risk Digital Ocean faces is probably straying from its main goal of providing developers with a simple and cheap platform for accessing servers, he admitted.
"Many providers today are focused on technology. Digital Ocean is focused on people, who is the user that's going to wind up taking advantage of our service. Even though we're going to build complex solutions we understand we're going to build them for a specific type of user," he said. ®