This article is more than 1 year old
Big Blue Apple: IBM to sell iPads, iPhones to enterprises
iOS/2 gear loaded with apps for big biz ... uh oh BlackBerry
IBM and Apple have forged a pact to sell software to enterprises: Apple will handle support and IBM will actually sell the iPads and iPhones, which will be loaded with Big Blue's ported apps. Oh yes.
The "landmark partnership" was announced by the two companies on Tuesday, and will see each firm help the other make money from a business area it has no particular affinity for.
IBM, for instance, will "sell iPhones and iPads" loaded with any of 100 industry-specific software products codeveloped by IBM and Apple, while Apple will handle phone support for the products. Inevitability, on-site support will be handled by IBM.
As part of this, IBM will port about 150 of its applications to iOS. This software should be available starting this autumn, the New York-headquartered giant added.
This lets IBM sell handheld computers without having to develop them, which we imagine is what the company wanted given its moves to divest itself of its hardware businesses – like its selloff of ThinkPad and, more recently, servers to Lenovo.
Apple, meanwhile, will get a load more enterprise software on its various mobile devices without having to develop the applications themselves.
"We are delighted to be teaming with Apple, whose innovations have transformed our lives in ways we take for granted, but can't imagine living without. Our alliance will bring the same kind of transformation to the way people work, industries operate and companies perform," said IBM chief Ginni Rommetty in a canned quote.
IBM will also build a variety of "cloud services optimized for iOS, including device management, security, analytics and mobile integration", which will allow Apple to avoid extending its own iCloud service into a new and unfamiliar area. These cloud services will be tied together via the "IBM MobileFirst Platform for iOS."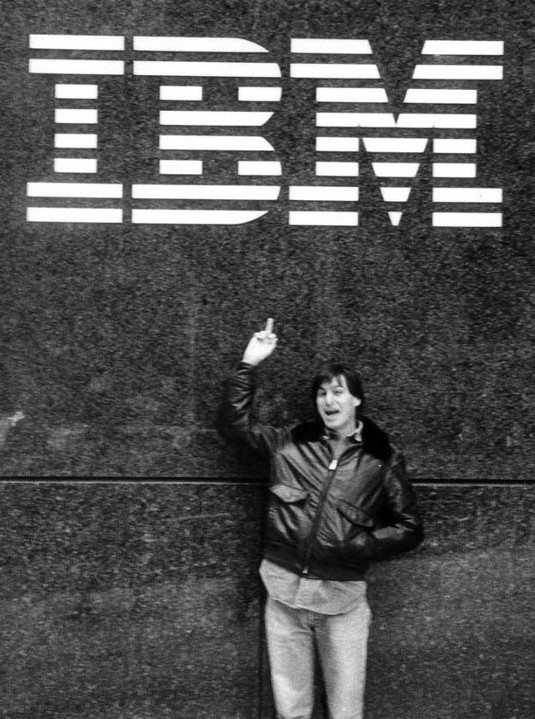 The Big Finger ... Apple cofounder Steve Jobs
"For the first time ever we're putting IBM's renowned big data analytics at iOS users' fingertips, which opens up a large market opportunity for Apple," said Apple chief executive Tim Cook in a statement. "This is a radical step for enterprise and something that only Apple and IBM can deliver." Tim Cook's predecessor, Steve Jobs, was no fan of IBM, as the above snap shows.
Speaking of IBM's "renowned" tech, the one-time OS/2 co-developer said in a press release that it had "secured more than 4,300 patents in mobile, social and security, that have been incorporated into IBM MobileFirst solutions that enable enterprise clients to radically streamline and accelerate mobile adoption, help organizations engage more people and capture new markets."
Though we're sure champagne corks will be popping at the respective HQs of IBM and Apple tonight, we reckon there'll be a distinctly different feeling at Microsoft and Google, which have both been working to cram their devices and software into enterprises.
As for fallen phone-maker BlackBerry, once the emperor of corporate mobile computing, well, the postal address of its head office is available here in case any Reg readers want to send some flowers or bottles of hard liquor over. ®