Scotland has shaken off the shackles of its English oppressors by ditching the vicious Sassenach web address system – and replacing it with a homegrown one.
Anyone living in the People's Republic of Salmond can now manually secede from their Tory overlords in Westminster by choosing a new .scot suffix.
Previously, the coddled huddles of subsidised Scotland were forced to pledge allegiance to Blighty by using top-level domains like .co.uk.
Now Scotland has joined other important parts of the world such as London, Berlin, New York City and, er, Wales by getting a proper web address.
More than 50 "pioneers" have signed up to be vanguards of the new .scot generic top-level domain (gTLD), including the Scottish Government, The Highlands and Islands University, NHS Scotland, The Scouts in Scotland, spin doctors and Weber Shandwick. Yes Scotland, and Better Together, which represent both sides of the independence debate, have also snapped up the new gTLD.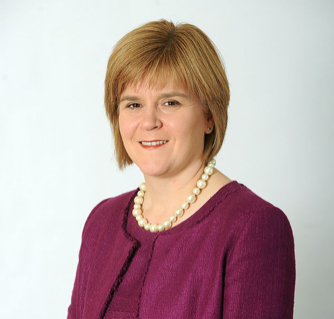 Nicola Sturgeon, deputy first minister, pictured, said she was delighted to have thrown off the chains of digital bondage.
"It is entirely right that Scotland should have its own distinctive and recognisable Internet domain, in particular one that will resonate internationally, helping to promote Scottish business and culture throughout the world," she said.
"I am confident that the .scot domain name will prove to be a real asset to the people of Scotland and to the worldwide family of Scots. I am looking forward to the Scottish Government being able to make use of this new domain, and to having www.gov.scot up and running before the end of the year, as well as our pioneer domains including www.welcome.scot, which go live today."
Proud Scots took the announcement of the new domain name as a chance to have a good old boast.
Gavin McCutcheon, director of the not-for-profit company Dot Scot Registry, has spent nine years campaigning for a uniquely Scottish gTLD. His efforts seem to have gone largely unnoticed, judging by the measly 48 followers this "digital pioneer" has amassed on Twitter.
"This is a fantastic day for Scotland online and gives our nation a chance to stand out, and be seen as the digital pioneer that many know it to be," he gushed.
"Owning a .scot domain will allow people and organisations a new unique way to express their identity online. It's a community domain intended for everybody who lives and works in Scotland, and for the 50 million people around the globe who are part of Scotland's diaspora."
For the next 60 days, only pioneers will be allowed to use the .Scot gTLD. Anyone interested can register their interest here and will be able to purchase a domain name with the gTLD from September 24, just under a week after the independence referendum on September 18.
Here in London, it's considered a little parochial to tie yourself to just one godforsaken corner of the earth. But in Scotland, it's a badge of pride.
Perhaps unsurprisingly for this wildly patriotic nation, a study of 2,000 Brits found that the biggest demand for regional web addresses can be found among Scots: 71 per cent of them admitted they would be more likely to buy from a firm that used a .SCOT address.
"The same proportion agreed that Scottish firms should adopt a Scottish web address promptly," Richard Stevenson of 1&1 Internet Ltd, Europe's largest domain name registrar.
So there you have it. Swap to dot scot wee man, or you're gonnae get chibbed. ®
Similar topics
Broader topics