New leaked 'Windows 8 screenshot': The Start Menu strikes back
Revamped launcher could arrive in update this year
---
A purportedly leaked screenshot of what appears to be an upcoming version of Windows has given us a closer look at the much-rumored new "hybrid" Start Menu, suggesting it may be coming sooner, rather than later.
We were given our first glimpse at Redmond's future UI direction at the company's annual Build developer conference in April, in a presentation by Terry Myerson, Microsoft's executive VP of operating systems.
Myerson showed off a screenshot in which a new version of the classic Start Menu was seen popping up from the taskbar. On the left of the menu was the traditional, Windows 7–style application list. On the right was a set of Live Tiles, reminiscent of the current Windows 8.x Start Screen.
The Redmond exec didn't say when this new feature would arrive, saying only that Microsoft "will be making this available to all Windows 8.1 users as an update." But the new screenshot, originally posted to the My Digital Life forums, seems to indicate that the change may not be far off.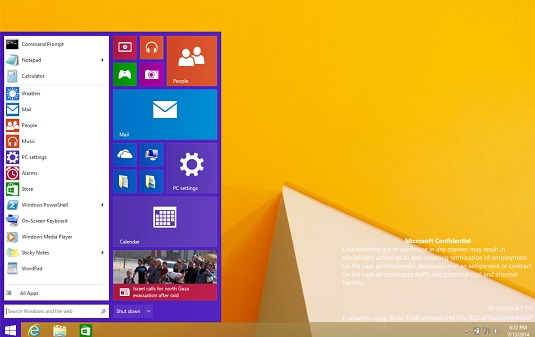 Microsoft told us it was coming and here it is again. But when will it ship? (click to enlarge)
As with most prerelease builds of Windows, this one shows the build number on its desktop. In this case, the OS is described as "Windows 8.1 Pro, Build 9788." That doesn't sound like there's been any major overhaul, as the current, shipping version of Windows 8.1 is Build 9600.
It's hard to say whether the screenshot is authentic, because disk images of the purported Build 9788 have yet to hit the usual pirate sites. But it seems in keeping with what Myerson demoed in April; if it was a hoax, you'd expect to see something surprising.
Instead, the differences between the version of the Start Menu in the screenshot and the one shown at Build appear minor. The selection of default tiles is different – the new screenshot shows prominent tiles for System Settings, This PC, and OneDrive cloud storage, for example. The search bar also now reads "Search Windows and the web," where previously it was blank.
Other than those changes, there's little to indicate what other significant features might be in store for the next version of Windows – if any – not to mention when it will arrive or what it will be called.
Rumors that Microsoft is planning to ship another update to Windows 8.1 – possibly around October – have been swirling for months. But it's not known whether the software giant plans to continue its current oddball nomenclature and call it Windows 8.1 Update 2 or whether it might punt and call it Windows 9, in hopes that customers that have shunned Windows 8 will be convinced that big changes have happened.
From the looks of things, however, this alleged Build 9788 – if it is real – will be more of a gradual evolution of Windows 8.1 than a major update. Still, if the lack of a Start Menu was what was keeping you from upgrading from Windows 7, this next version may be the one you've been waiting for. ®