Antique Code Show Rumours of a new version of the Atari classic Gauntlet at E3 took me straight back to the arcade circa 1985.
I remember being dwarfed as a preteen by the fearsome presence of Gauntlet's massive cabinet. It dominated the arcade and the rest of the machines in the room with its huge screen and impressive multicoloured keypad.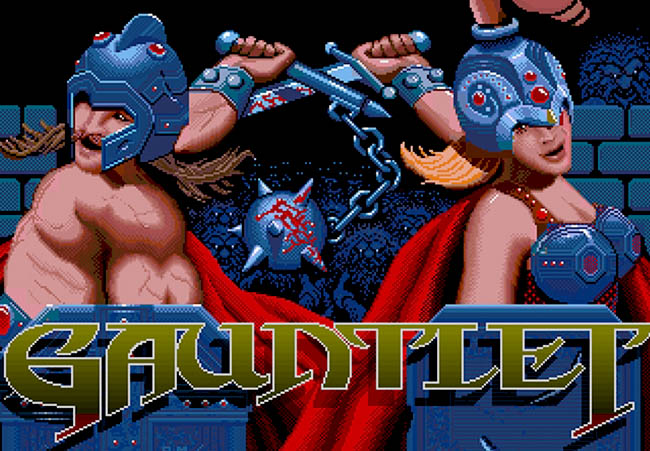 Hack and slash time
Four players could be dropped into the cavernous dungeons simultaneously to do battle with infinite hordes of brutal enemies. This massive cabinet was not just large enough to accommodate four players, but also symbolised the enormity of the game's labyrinthine levels. Gauntlet was a Stonehenge-like gateway to a world filled with armies of otherworldly hosts and demonic beasts. It required fervent, coin-feeding reverence.
Appealing to a love of Dungeons 'n' Dragons, this hack-and-slash fest freshened up the genre. Dungeons were no longer a steady convoluted plod, they were reborn as places for a vigorous non-stop romp. The purpose of the game is basically to survive as long as possible while discovering Gauntlet's mazes in search of treasure, food, magic potions and, eventually, the exit that leads to the next dungeon.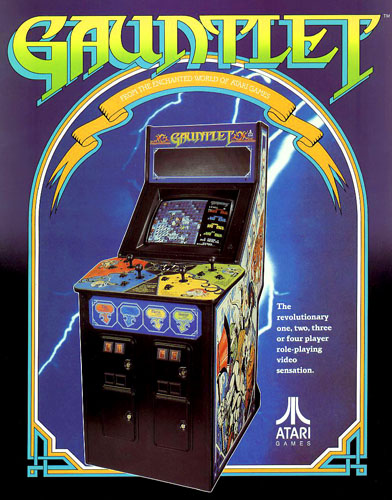 Atari Games was the first to accommodate four-players on its arcade Gauntlet
Being able to play with three other friends and each have a distinct character was a gaming revelation, but invariably there would be a scramble to choose the best characters – I always wanted to play the Valkyrie. The fact that all the characters were so different was just one of the unique aspects of this game: Thor, Merlin, Thyra and Questor actually took on distinct personalities.
Games like Streets of Rage had different characters but they often just looked different with basically similar stats and actions. But in Gauntlet, different characters had different weapons, as well as completely different stats.
For instance, Thor the Warrior with his tough skin (eliminating 20 per cent of potential damage) and axes, for ranged and mêlée combat. Spritely Questor the Elf was equipped with leather armour and arrows whereas Merlin could conjure up powerful spell attacks.
Last but not least, my favourite, the Valkyrie, was the second most popular character because of her awesome shield – allowing her to repel 30 per cent of potential damage. Even though I must admit I heard  "Valkyrie ... is about to die!" more often than I'd have liked.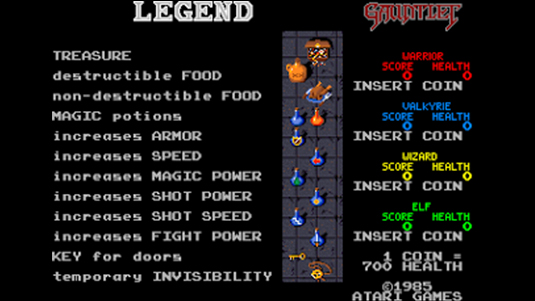 Food fight
The dungeon in which our characters fought was a vast series of maps viewed from above and home to all manner of spine-chilling nasties, continually spawning through portals that need to be closed ASAP. These ghoulies came in all shapes and sizes – regular ghost, skeleton or Death. Unsurprising, Death can only be killed by magic/potions and the other ghoulies didn't go down with one shot.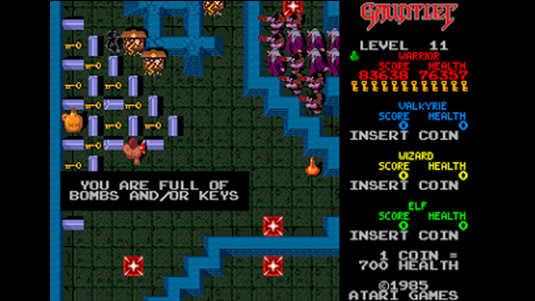 Bombs away
Little blue bottles indicated magic potions, which littered the levels and gave a boost to abilities such as speed and shot power. If all else failed and things were getting a little hairy, I always enjoyed using them as a smart bomb to destroy a satisfying percentage of visible monsters.