ALIEN BODY FOUND ON MARS: Curiosity rover snaps extraterrestrial
And NASA kept evidence to itself for over a month
Picture NASA's Curiosity rover has stumbled across a massive iron meteorite half buried in the sands of Mars – an object the US space agency has dubbed Lebanon.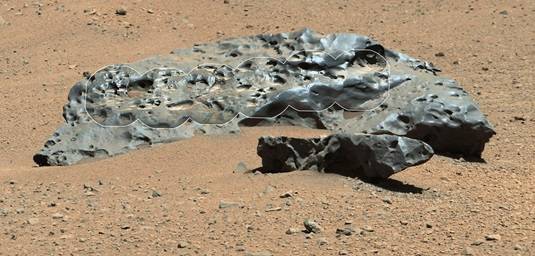 The Lebanon meteorite found by Curiosity
The two-metre-wide rock was discovered by the Martian robot on May 25. It was photographed using the nuclear-powered tank's Chemistry and Camera (ChemCam) instrument. Curiosity's Mast Camera (Mastcam) was used to determine the body's color and contrast levels. Now NASA has published the combined image and a preliminary analysis of what the meteorite is made from.
"The imaging shows angular shaped cavities on the surface of the rock. One possible explanation is that they resulted from preferential erosion along crystalline boundaries within the metal of the rock," said the boffins.
"Another possibility is that these cavities once contained olivine crystals, which can be found in a rare type of stony-iron meteorites called pallasites, thought to have been formed near the core-mantle boundary within an asteroid."
It's not the first meteorite found on Mars. Back in 2005 the Opportunity rover found an iron/nickel extraterrestrial boulder lying on a sand dune on its path, but wasn't able to do much in the way of testing; NASA ended up halting the attempt after a quarter of the rover's drill was worn away by the rock.
As for the Lebanon find, NASA says it is likely the space rock has been sitting on the Martian plains for millions of years. Iron meteorites are eroded much more slowly on Mars than on Earth, thanks to Earth's oxygen-rich atmosphere and overall moistness, while on the Red Planet the only erosive forces that we know about come from wind-blown dust.
The space agency may decide to investigate the meteorite further, but at least one person has a good idea for the lump of big iron. ®
Just have to smelt this down and then I can make a sword and then basically I'm a samurai. pic.twitter.com/sDOGB9Fy6f

— SarcasticRover (@SarcasticRover) July 16, 2014