FLAPE – the next big thing in data retention storage methods
Find cold data with flash, transmit it from tape
---
The analytical wonks at Wikibon have deduced that a combination of flash and tape is better than tape alone or disk and tape for storing archival data. The argument is based on tape being not only cheaper than disk, but actually faster than disk for streaming large files.
It also relies on the cost of flash approaching that of disk so that storing tape file location metadata in flash becomes as cost-effective as storing it on disk.
The story starts with a research note by Wikibon's David Floyer titled "The Emergence of a New Architecture for Long-term Data Retention".
In it there is a chart showing total 10-year cumulative hardware the long-term retention of 1PB of data.
Floyer compares a disk-only strategy; disk with small and also with a large flash store for metadata; tape only; high function tape + flash; and high function and bandwidth tape and flash. He uses the term "Flape" for the combination of tape and flash.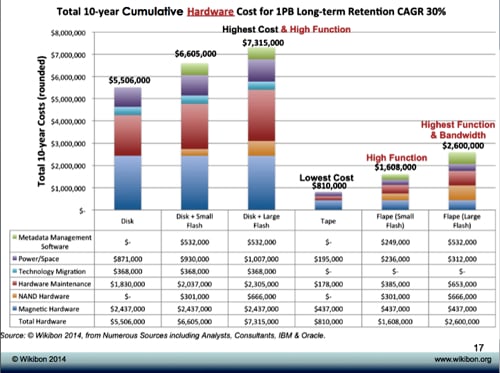 Click for larger version.
His conclusion is: "This [Flape] combination of technologies when used for long-term archiving can save IT departments as much as 300 per cent of their overall IT budget over the course of 10 years."
A core finding is that disk capacity prices are not decreasing as fast as those of flash or tape. Also the speed at which data comes off tape is growing faster that the speed at which data is streamed off disk.
This tells us that the ability to get data off tape is getting faster, relatively, given the tape growth rates. And the areal density is growing at approximately 30 per cent versus disk, which is growing at only 9.6 per cent. Data can be extracted 4x faster from tape than it can from HDD.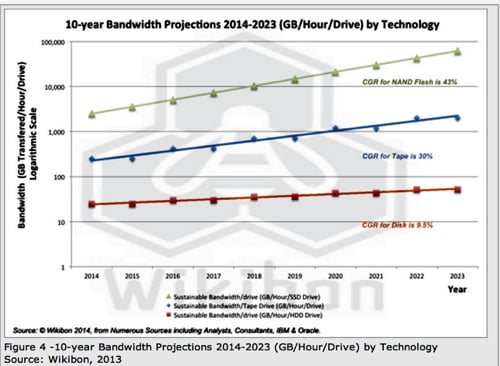 Obviously disk is faster at getting to the first byte of data, even if a tape cartridge drive is already mounted in a drive. Is Floyer saying that, with a tape and large files, the time to the last byte is faster than disk? Yes, he is: "Once you 'get to' the first byte of data, tape is faster," – so tape can be faster than disk for large file. He adds: "If time to first byte is not critical, flash/tape is the lower cost solution."
Storing the file's location metadata in flash rather than on disk shrinks the metadata processing time and consequently shrinks the time to first byte on tape.
He says more investment is going into tape, with the LTFS filesystem technology and tape capacity and speed investments. There is no discernible investment in increasing disk IO speed, which would require an increase in the number of read heads, such as two per platter surface, or an increase in platter rotation speed, but neither of these technologies are being developed. Disks are essentially stuck at the 15,000rpm barrier and, indeed, retreating from it as flash assaults the high-performance data access market.
Floyer says:
The projected growth in disk density is 20 per cent.
The higher investment in tape heads includes increasing density at 30 per cent. The bandwidth comes from increased linear density and increased number of heads across the tape.
The strong investment by consumer technologies in flash is driving density, and therefore also bandwidth, improvement at 43 per cent.
He sums the situation up like this: "At the end of the day, flash is getting faster and less expensive, tape is getting faster and is inexpensive and HDDs are not getting that much faster and, based on how they need to be used in order to store data effectively, with RAID etc., are very costly."
El Reg wants to know: Could a disk read/write head work on more than 1 track at a time? Wouldn't that increase disk I/O bandwidth?
Floyer asserts "The concept of Flape is very real, and a number of customers have deployed the combination of flash and tape in their environments today."
He suggests that LTFS needs extending, with RESTful APIs for example, to provide middleware layers which give applications better and faster access to large files and filesets on tape.
Potential developers of this software, he thinks, are Oracle and IBM.
He sees six common use cases for Flape: archiving, backup, long-term retention, scale-out NAS, the cloud and as a tier in multi-tier storage schemes.
Wikibon's David Vellante has blogged about this and says: "The spinning disk cartel will cringe at the premise that tape is faster/cheaper/better. They'll make faces and tell you why this is nonsense. They will tell you tape is not cool and you are not cool if you use tape. Don't just trust their skepticism. Do the research yourself and come to your own conclusions. You may find that you can drive significant value for your organisation."
Vellante sees potential developers of Flape software being Oracle and IBM. HP could also be a player. El Reg would also include Quantum, with StorNext, and SpectraLogic with its Black Pearl technology.
Read the Floyer and Vellante notes and see what you think. ®