Huge FOUR-winged dino SPREAD LEGS to KILL – scientists
Feathery limbs acted as 'extra set of wings' for precision attacks
Flabbers around the world were gasted this week, as news emerged of a previously unknown flying dinosaur equipped with feathered legs – giving it the ability to make precision landings or attacks on its prey.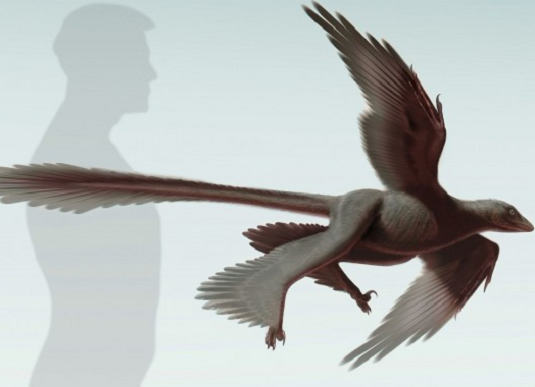 Feathery death from above
The 125-million-year-old dinosaur is of the Microraptor group and is named Changyuraptor yangi. Its fossilised remains were found in Liaoning Province, northeastern China. The remarkably well preserved dinosaur was particularly feathery, according to the investigating boffins, having not only ordinary wings but also its remarkable feathered legs - able to act more or less as a second set of wings for extra-precise flight manoeuvres - and also a tail with extra-long feathers.
"At a foot in length, the amazing tail feathers of Changyuraptor are by far the longest of any feathered dinosaur," boasts Luis Chiappe, one of the paleontologists who discovered the multiplex-winged monster.
According to the Los Angeles County Natural History Museum, where Dr Chiappe works:
These microraptorine dinosaurs are dubbed "four-winged" because the long feathers attached to the legs have the appearance of a second set of wings.
The tail and extra wings would have given the Changyuraptor extra fine control during landings, either ordinary ones or those carried out during hunting. Chiappe and his colleagues write:
The new fossil possesses the longest known feathers for any non-avian dinosaur. Furthermore, it is the largest theropod with long, pennaceous feathers attached to the lower hind limbs (that is, 'hindwings'). The lengthy feathered tail of the new fossil provides insight into the flight performance of microraptorines and how they may have maintained aerial competency at larger body sizes. We demonstrate how the low-aspect-ratio tail of the new fossil would have acted as a pitch control structure reducing descent speed and thus playing a key role in landing.
Full boffinry detail on the new flying leg-spreading dino can be found here, courtesy of the journal Nature Communications. ®