It was always Azure thing: NetApp floats boxen into Microsoft's cloud
Let's talk privately
---
NetApp is setting up a speedy connection to Microsoft's Azure cloud so its arrays can have an Azure backend for scaling up capacity, archiving, DR and enabling workload moves.
NetApp Private Storage (NPS) for Azure relies on a NetApp box in a managed services type data centre or colo centre like those Equinix operates.
A customer's NetApp box is located in the colo centre. Equinix explains that apps run in Azure "and have a dedicated connection to the NetApp storage by Azure ExpressRoute connections. ExpressRoute's private, secure, high-throughput connectivity between cloud compute and private storage resources means data can be transferred with ultra-low latency."
NetApp and Equinix have a partnership, using Equinix' Cloud Exchange. The two say "data throughput between NetApp Private Storage customers and Microsoft Azure rose by an average of 36 per cent when the two services were connected via the Equinix Cloud Exchange instead of via [a VPN over] public networks."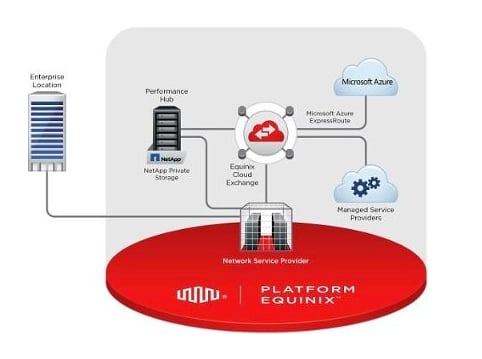 NetApp Private Storage for Azure with Equinix
This builds on links NetApp has helped set up to access Amazon storage, which was called NetApp Private Storage in November 2012 when it was announced. So now we have NPS for Azure joining NPS for Amazon.
NetApp's announcement says: "By deploying NetApp Private Storage in Equinix data centres with Equinix Cloud Exchange, enterprises place data next to AWS and Microsoft Azure to combine the elasticity and cost benefits of public cloud compute with performance availability and control of private NetApp storage and data management."
There is a FlexPod Datacenter with Microsoft private cloud system to speed up buying and deploying NPS for Azure.
Customers can envisage storing big data on NetApp and have Azure-resident analytic apps churn through it using NPS for Azure.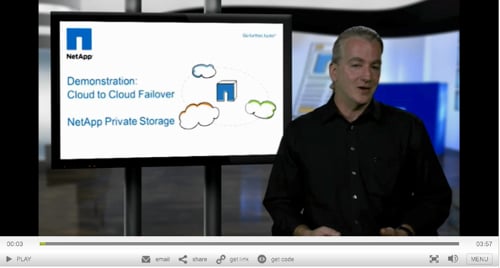 Cloud to cloud failover with NPS. Click image to run the vid
The Equinix Cloud Exchange can dynamically connect NetApp Private Storage customers to multiple public clouds with automated provisioning. Connections can be set up in minutes.
The Cloud Exchange has 16 points of presence: Amsterdam, Atlanta, Chicago, Dallas, Frankfurt, Hong Kong, London, Los Angeles, New York, Seattle, Silicon Valley, Singapore, Sydney, Tokyo, Toronto and Washington D.C. This list will expand by three more by the end of the year.
But, NetApp says, "Today NetApp Private Storage for Microsoft Azure is available in Equinix data centres in Silicon Valley and Washington, D.C. Availability throughout additional U.S … Europe and Asia [data centres] is planned for the near future."
Read a NetApp blog about all this here. ®