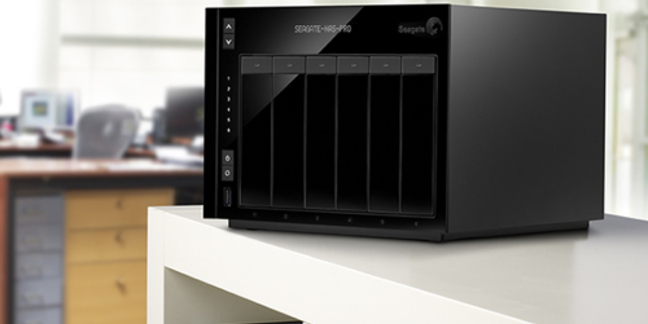 Small Office Home Office (that's SOHO to you) and SME NAS supplier Seagate, which also makes hard disk drives and SSDs, has launched a pair of ARM-based and Atom-based desktop 2- to 6-slot filers with a set of minor productivity apps and remote access.
The Seagate NAS line is for use by up to 25 employees, has from two to four slots (2TB - 20TB) and is powered by a Marvel ARM 1.2GHz processor and 512MB of RAM, running NAS OS v4.0.
Supported Seagate NAS drives run up to 5TB in capacity.
There is no 5TB NAS drive described on Seagate's website, yet Seagate is quite clear in its release: "Each NAS is populated with Seagate's best-in-class NAS HDD drives in capacities up to 5TB."
We might assume that, like the other 2TB - 4TB NAS drives in Seagate's line-up, it spins at 5,900rpm and uses a 6Gbit/s SATA interface.
Seragate has an eight-bay rack-mount NAS using 4TB drives. It might get these secret 5TB spinners and pump its capacity up from 32TB to 40TB.
The NAS Pro line has from two to six bays, meaning 2TB - 30TB capacity, and runs with an Intel dual-core 1.7GHz C2000 Series CPU. It runs NAS OS v4.0 as well and supports up to 50 employees.
Seagate says it is "designed to perform well in multi-user and multi-dimensional environments [with] bandwidth to support fast and frequent file sharing between employees, as well as multiple applications running simultaneously."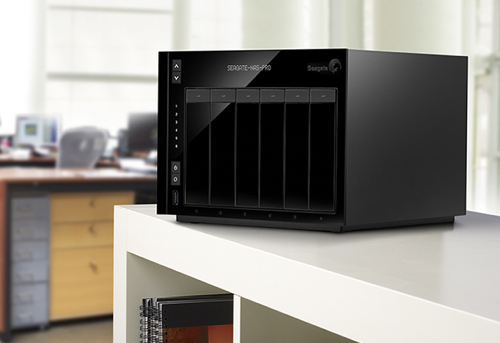 Seagate's NAS Pro product
NAS v4.0 features:
Redesigned device manager SW supporting smartphone, tablet, notebook and desktop use
Sdrive remote access facility with device being, in effect, a private cloud
App manager for loading, running and managing apps
Free remote access app for smartphones and tablets
The Seagate NAS and NAS Pro products will come with five apps at launch:
Seagate Antivirus: an app that scans the files stored on the NAS to help safeguard against viruses and malware
Seagate Surveillance Manager: compatible with thousands of models of IP cameras, offering event and schedule-based recording and mobile apps for remote viewing
WordPress: a free open-source publishing platform with sophisticated design features, which allows one to easily create a blog
Own Cloud: an app that provides universal access to one's files via the web, a computer or from mobile devices from locations outside of the network
BitTorrent Sync: a tool to enable synching and sharing of unlimited files and folders across all trusted devices in a secure manner
More will be added in the future. Whether this app software is useful or just added value buying bait - "Look what we get for free with the boxes!" - depends on whether you need any of them and don't have them already on the PCs and notebooks, and tablets and smartphones, you'll use to access these boxes.
Seagate's LaCie business uses 5TB drives in its external storage products – such as the 5big with up to 25TB capacity.
Get a six-bay NAS Pro spec sheet here (PDF).
You can buy the boxes, which Seagate says don't need a dedicated IT person to run them, from Amazon, NewEgg and Seagate.com. The NAS line is available now for an MSRP of $299.99 for the two-bay 2TB box and $649.99 for the two-bay 10TB version. The four-bay config ranges from $599 for 4TB to $1,499.99 for 20TB.
The NAS Pro costs more: the 2TB model is $399.99 with a 30TB one priced at $2,499.99. All prices are MSRP. ®
Sponsored: Webcast: Simplify data protection on AWS