Seagate finally digests EVault – 8 years after swallowing
SeaVault anyone?
---
The EVault website has suddenly sprung a Seagate surprise on us, announcing "EVault is now part of Seagate" and it is "working under the Seagate brand." What gives?
The pop-up window says "Seagate will make a more formal announcement about this exciting development in September."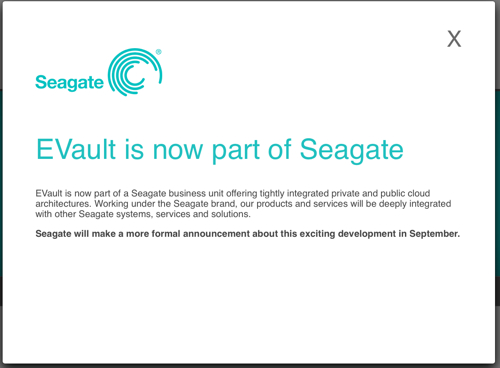 EVault website pop-up
EVault's main event history since being bought by Seagate looks like this:
December 2006 - Seagate buys EVault for $185m, saying it wants to expand beyond disk drives into the broader storage solutions category.
EVault services are branded i365 (Information, 365 days a year) in 2008, with paperwork search biz MetaLincs and Seagate Recovery Services included in the brand's offerings.
December 2011 - the i365 brand changes back to EVault.
November 2012 - EVault will use Microsoft's Azure cloud as a back-end data vault.
Late 2013 - EVault develops LTS2 Amazon Glacier-like cold storage offering that uses Seagate's object access protocol Ethernet-connected Kinetic drives.
EVault is developing its own disk archive cloud using Seagate's drive technology, including, El Reg suspects, Seagate's shingled media drives and spin-down drives as well as the Kinetic drives. This suggests that the Azure back-end deal may be under threat or is being re-evaluated.
Seagate has bought Xyratex recently, which has three businesses: HPC ClusterStor arrays, disk storage enclosures for OEMs such as as Microsoft's StorSimple, and HDD manufacturing test equipment. The idea that Xyratex enclosures holding shingled, spin-down and/or Kinetic drives, or all three, could be used in Seagate EVault data centres seems pretty attractive on a back-of-an-envelope sketch level.
The EVault pop-up says the new Seagate business unit will be "offering tightly integrated private and public cloud architectures," indicating the future SeaVault - we jest - backup and archive data vaults could be both on-premises and off-premises in a Seagate public cloud – with SeaVault software covering the two in a single operational and management layer. Roll on September. ®