Apple 5S still best-selling smartphone 8 months after launch
Cook's empire still propping up the bar... Sam-who?
---
Bad news Samsung: the Apple iPhone 5S is still the hottest-selling phone in the world, according to stats from the beanies at Counterpoint.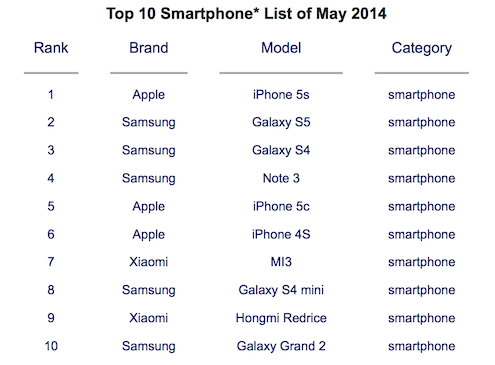 The numbers for May covering 35 countries, show Apple's flagship mobe bucking expectations by outselling handsets from all competitors some eight months after it launched.
But Tom Kang, Counterpoint research director, said the list is set to be dominated by bigger phones, or phablets, as more hit the market.
"There are now three phablets in the top 10 list, which reflects the ongoing trend of larger displays," he stated. "Almost 40 per cent of the smartphones sold in May were phablets according to Counterpoint's channel research... If Apple comes out with a phablet later this year it will instantly become a hit and top the list of phablets within two months of availability.
In number nine is the oddly named Hongmi (which means red rice) from Android handset maker Xiaomi, which is a cheap, China-only phone.
The mobes which failed to make the list include Sony's Xperia Z1, which scraped in outside the top 10, as well as Motorola's Moto G, Huawei's Honor 3C and LG's G2, which all made it into the top 20.
Counterpoint expects to see the the Nokia X – which our mobile guru Simon Rockman said was "aimed at emerging markets" – do well in the next round of sales. The X and its dual-sim cousin, the X2, are unlikely to make it over to the UK, with Microsoft describing the family as "affordable smartphones designed to introduce the 'next billion' people to the mobile internet and cloud services".
Although Apple and Samsung are arch enemies, the two share a sort of uneasy marriage that looks set to continue. Rumours indicate that TSMC, which currently makes chips for the iPhone 6, will be replaced by Samsung next year.
KGI Securities analyst Michael Liu visited a TSMC investor conference and claimed to have heard that Samsung foundries will start producing advanced 14-nanometer chips for the fruity firm. ®