Data storage solutions are typically sold as appliances: hardware with a smart software layer on top. The intelligence is in the box that you buy and is tailored to the hardware it lives with.
That approach makes sense until you take a wide-angle view on a real-world data centre: independent storage boxes act well on their own, but are hard to aggregate into one centrally controlled storage pool. The result is that storage capacity is not used optimally and storage performance is hard to control.
There are several approaches to solving this problem. Atlantis Computing offers a software-only solution that places all intelligence in one hardware independent software layer. That means customers can run Atlantis USX on their existing server, network and storage hardware and control all types of storage centrally from one software layer.
In this article, I interview departing Atlantis CEO Bernard Harguindeguy*. It will be followed up by an interview with the founder and CTO of Atlantis, Chetan Venkatesh.
(This interview is one in a series of interviews with CEOs and founders behind startups. The CEO series can be found here.)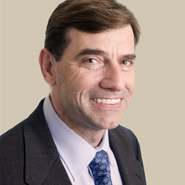 Bernard Harguindeguy.
WTH: I would like to get into the company itself and your background. The company was founded in 2006 and you joined in 2009, right?
BH: I actually got involved in 2007. I was selling my company at the time to Google. One of my board members, who was a board member at MacAfee, told me about Chetan. He said he was an interesting guy with a great idea who was all by himself at the time. I started working with Chetan from that point on as a strategist and board member and put money in the company when it was needed.
In 2009 we had something that really had high potential, we decided from that point on to raise serious money. That was the natural moment for me to step in as a CEO.
WTH: So you actually invested your own money in this?
BH: Yes we all did, when you have a small team you do. It was only in 2010 that we received VC money.
WTH: Who was the first VC that you decided to take on as an investor?
BH: We took $10m from three VCs: Eldorado Investments, Partech Ventures and Cisco in 2010. Then, in 2013, each of the original investors put more money in, plus we added a late-stage investor – Adam Street Partners.
WTH: Cisco is quite a strategic investor. Do you do much with them in the current US products?
BH: Yes we do. The person behind the funding was actually Ed Bugnion, one of the co-founders of VMware. ... Edouard had built the Nexus product family (in the Cisco-funded Nuova) that he sold to Cisco in 2008. He really liked what we were doing and he was the one that told Cisco what we were up to. Cisco is a big partner and we love the UCS platform. However we have more OEM partners like HP, Dell, IBM and Netapp that we love to partner with as well.
WTH: That is an important list of partnerships you just mentioned. Has it been a strategic choice for you and Chetan from the start to become a software-only product, so you would not be threatening to your future OEM partners?
BH: Yes that has been part of the strategy for sure. If you look in 2009 and part of 2010 we were actually selling an appliance. We had to do this back then because the installation/configuration of the software was still too complex.
In 2010 we decided to move to a software-only solution and the idea was to solve the installation/configuration issue and allow the customer to use our product on any server, any storage and any network resources. We would automate the installation, configuration and provisioning so that our customers could work with a mixed bag of hardware resources and make it available to their end users. We had fully delivered on that vision by the end of 2010.
WTH: I've come to really respect the software-only approach, because it makes it lots easier to integrate with other solutions and actually not be in competition with potential hardware OEMs.
BH: We realised that customers had already made choices. We were proud to give them a product that worked with that – though it was hard for us to make the product like this. It would have been much easier making the product for one hardware platform.
Another point I would like to raise is that from the very beginning, the vision we had was to optimize how the Virtual Machine (VM) would use storage.
With ILIO, we started with the VDI use case, and we moved up to supporting different platforms like XenApp. Since USX we are able to support all sorts of workloads. This has been natural evolution and part of the strategy set out by Chetan and me in the beginning.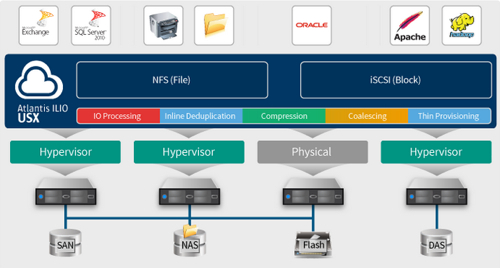 USX schematic – click for larger version.
WTH: You are French with a very international background. Chetan has a different background again, how would you describe Atlantis' company culture?
BH: Chetan and I, we both have diverse backgrounds that are actually very similar. Chetan was born in India, lived in Malaysia, has family in Singapore and all over Asia. I was born in France but lived in Germany, Africa and was educated in the US. So we both have been living in many places and this allowed us to build an international business from the very beginning.
We hire people that are extremely team-oriented, who insist on collaboration. We do not want people that have done great things in the past and take ownership, but with transparency and without big egos. We expect our team to grow beyond 300 people this year.
WTH: With the growth in employees, how is business going?
BH: Really well. Unlike startups that grow with a ton of cash, we don't. We have not burnt cash in four years and will never do that. Our customers are funding our business.
We have around 500 customers in all verticals, from small to big deployments. The experience we gained across these various customers is huge, which allows us to really advise our customers on specific use cases.
WTH: What are the most important geographical areas for Atlantis?
BH: That depends for which of the three product lines. VDI has been very big in Central Europe, Russia, UK and US. That is now growing into South America, the Middle East and Japan. The XenApp product line has been doing well across the globe, all areas.
Now for USX, we are expecting it to piggyback on our VMware installed base. This is worldwide and this is how we are expecting the sales to develop. We have people on the ground all over the world for this reason.
WTH: Does the expected growth of the company to 300 employees this year mean that you're focusing more heavily on direct sales?
BH: It does not. We keep relying on our channel that we started in 2010. Last year, about 92 per cent of our business was done though the partner network. A nice detail, the three largest deals we have ever done were each done through partners. It takes a long time to build such a channel eco-system and we are continually investing in it.
Throughout the years I have been working with many customers all over the world and learned about their challenges in the data centre space. It is from building customer relationships that you learn their problems and can come up with a really great product. This customer-first attitude really builds a successful business. ®
* Bernard Harguindeguy was replaced as Atlantis CEO by Jason Donahue on July 15.