SanDisk sales are booming, based on its NAND foundry integration and well-executed move into enterprise storage.
Record second quarter revenue of $1.63bn was 11 per cent up year-on-year. Net income was £274m, 4.6 per cent more than a year ago – with revenues growing faster than profits.
SanDisk supplies consumer and business flash products, ranging from MicroSD cards to enterprise SSDS and is buying Fusion-IO, the PCIe flash card hardware and software business, for $1.1bn.
Prez and CEO Sanjay Mehrotra said there had been record revenues "in both enterprise and client SSDs, as well as retail products … Our results position us well to deliver another record year in 2014."
If the same revenue pattern occurs in 2014 that we saw in 2013, then SanDisk's full 2014 year revenues could be around $6.9bn. Topping $7bn would be a landmark result.
Here are some details (thank you Stifel Nicolaus MD Aaron Rakers for this):
There was a 97 per cent y-on-y increase in total SSD revenue. It was 58 per cent in the previous quarter.
SanDisk reported a 2x y/y and +30 per cent sequential growth in enterprise SSDs.
The client SSD business posted record revenue in the quarter.
SanDisk 2TB Optimus SAS SSD production is ramping up; 4TB Optimus Max is in qualification.
SanDisk has also won a 2TB Optimus SAS SSD tier one enterprise storage player OEM qualification.
3D NAND pilot production in second half of 2015 and general production building up in 2016 into 2017.
Rakers noted Western Digital (HGST) continues to lead the enterprise SAS SSD market. He expects SanDisk to move aggressively to have its own NAND used in Fusion-io products and so enable a cost decrease and, potentially, a price decrease as well.
Four terabyte SSD
Fusion-io and others have PCIe flash cards that reach and surpass 4TB capacities but a 4TB SSD is, El Reg believes, a first. OCZ had a 4TB Chiron SATA SSD previewed at a January 2012 CES but it never saw the light of day. Western Digital's HGST has a 2TB SSD from its sTEc acquisition.
SanDisk's 4TB Optimus Max SSD is not just for small amounts of fast access data, it's for fast big-data munching and rack drawers full of them could equal massive flash data stores – an enticing prospect. Desktops using 4TB drives could see an end of disk drive data delays. This kind of product can displace 10K rpm disk drives as well as 15K ones in storage arrays and VSAN-ready servers and, if the pricing is right, 7.2K drives for impatient PC owners.
SanDisk expects 4TB SSD revenues to ramp up in the second half of this year.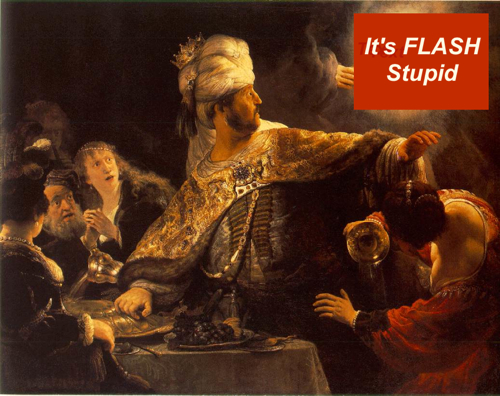 The flash writing on the wall.
Chris says: Vertical integration
A final thought: SanDisk evangelises the idea that vertical NAND integration is a key attribute of its business and will remain so. That implies that Western Digital's (HGST) flash business, with no NAND foundry strategic relationship, is at risk. If this is the case, Seagate would be less so, in our view, because of its Samsung relationship.
If the disk drive vendors, who are hugely strong proponents of vertical integration in the disk drive business, are to be as successful in flash bits as they are in spinning bits, then they absolutely must have NAND foundry tie-ups. In fact, logic says they have to buy into the flash foundry business or their channel, as a flash chip production company's route to market, will be bypassed by that company's own up-the-stack integration.
WD and Seagate are facing competing SSD suppliers with flash foundry capabilities: Intel, Micron, SanDisk and Toshiba. One of the two simply has to cement a deal with Samsung if it is to stay (Western Digital's HGST) or become (Seagate) a tier one player in the flash chip-based storage business.
A buy-in approach could suggest an acquisition of smaller flash foundry such as Hynix.
For both Western Digital and Seagate, a strategic crunch point is approaching and this needs to be accepted and successfully negotiated before the onrushing and growing tidal wave of PCIe, flashDIMM, planar and 3D-format SSD-format flash overtakes the disk drive business and turns it into yesterday's technology.
The two disk drive leaders have to cannibalise their own business, eat their own lunch, or have the prospect of starvation lunch diets facing them as their disk businesses spin down. ®