IBM's GPFS marries LTFS: You may now kiss the enterprise
Parallel file system says 'I do' to tape
---
IBM's General Parallel File System (GPFS) will soon "see" files on tape cartridges through an enterprise edition of LTFS, Big Blue's Linear Tape File System.
LTFS comprises a self-describing tape format, with metadata on the material at a known location defining the tape's file contents. LTFS supports LTO5, LTO6 or TS1140 tape, and a host computer can use LTFS, for example, to set up a drag and drop, file:folder graphical user interface to the tape.
While GPFS is being rebranded Elastic Storage, IBM is developing an LTFS EE (Enterprise Edition) product that provides a link between GPFS and LTFS.
Frank Kraemer, an IBM client technical architect for IBM Germany, says you can "put any LTFS tape in the tape library, import it with LTFS EE commands and the data will show up in your GPFS filesystem defined by your import rules."
It works because LTFS EE "uses an internal 'hidden' GPFS filesystem to keep the metadata of the LTFS to GPFS mapping."
This provides a way for bulk GPFS data that has a low access rate, but needs to be retained, to be stored on low-cost band reliable tape, avoiding it occupying expensive disk space.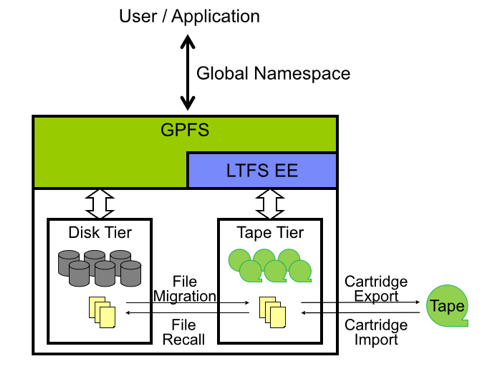 LTFS EE data import/export feature
An IBM LTFS website states:
IBM Linear Tape File System Enterprise Edition (LTFS EE) gives organisations an easy way to use cost-effective IBM tape drives and libraries within a tiered storage infrastructure. By using tape libraries instead of disks for Tier 2 and Tier 3 data storage – data that is stored for long-term retention – organisations can improve efficiency and reduce costs. In addition, LTFS EE seamlessly integrates with the scalability, manageability and performance of GPFS, an IBM enterprise file management platform that enables organisations to move beyond simply adding storage – to optimising data management.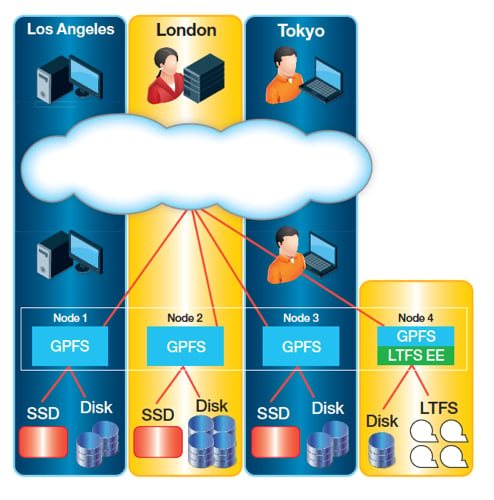 IBM says "Using LTFS EE, organisations can easily share data access to both tape and disk storage across a global storage environment."
We must note that "in a large GPFS cluster the number of LTFS-EE instances is a minimum of two, or all GPFS NSD server nodes if you want full scaling."
Big Blue says it's possible to duplex single site tapes via LTFS EE or GPFS policy. If multi-site electronic replication is desired, two implementations are possible. GPFS AFM can be used to replicate between the sites, or a simple script using rsync can be used to do the replication.
IBM says "performance of the tape drives and of the LTFS EE server is load balanced by the LTFS EE software to ensure the highest possible data rate and data availability."
LTFS EE-supported tape libraries are the TS4500 and TS3500 IBM libraries using LTO 5 and 6, and IBM's 3592 JB, JC and JK formats. GPFS v3.4 or later is required.
Kraemer added: "It's a very new product but customer interest is high and early adopters have already started."
Read an IBM datasheet here [PDF] for more info. ®
Similar topics
Narrower topics