This article is more than 1 year old
Say goodbye to landfill Android: Top 10 cheap 'n' cheerful smartphones
Holiday handsets you can afford to lose
Product round-up So, you want a smartphone but you don't want to pay more than £150 (and ideally a whole lot less). You're going buy a Motorola Moto G, right? Probably. The G is a very safe bet. But are there alternatives? Indeed there are.
All the devices poked here with The Reg stick run Android bar one. That device will soon to get an Android app store thanks to an OS update and Amazon, though, so it sneaks in through the back door.
It's a sign of how far the affordable smartphone game has moved on that not one of the devices here can really be described as landfill Android – namely, cheap but essentially unusable to anyone with even a modicum of technical sympathy. That's a ship that has well and truly sailed. Oh, and before you all take to the comments page, each device performed perfectly well telephonically. Take it as read.
Acer Liquid E3

Available through Three in the UK, the Liquid E3 is a slightly unbalanced device. For storage, you have to make do with just 4GB but the main camera is a mighty 13Mp affair, while the webcam boasts 2MP and its own LED flash. Personally I'd prefer fewer pixels, one less flash but more storage for my money.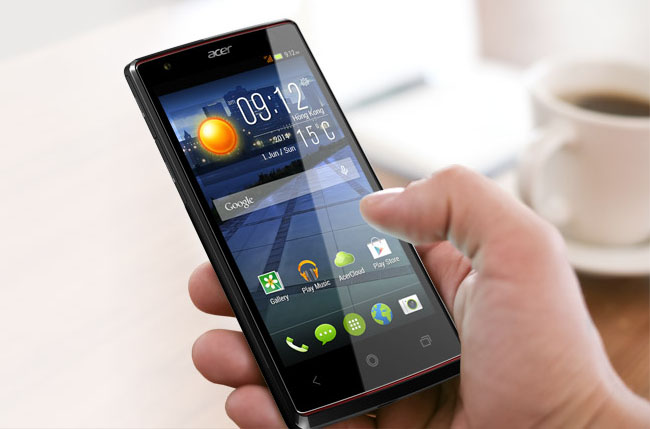 Running the show is a Mediatek MT6589 chipset comprising a quad-core 1.2 GHz Cortex-A7 chip, a PowerVR SGX544 GPU and 1GB of RAM. That makes it a match for the best of the Qualcomm brigade here, judging by the AnTuTu score and the smoothness of the interface.
Up front, you'll find a top quality 720p 4.7-inch IPS display and a very punchy speaker under that red accent you can see below the screen. On the back, there is an LG-esque button called Acer Rapid that can be set to perform various functions.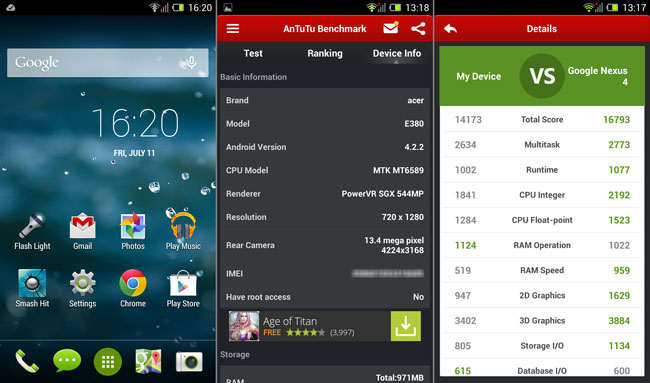 Homescreen and AnTuTu device info and rating – click for a larger image
Like Alcatel's Idol S, the Liquid E3 looks and feels rather more expensive than it is. The various flies in the Liquid's ointment are the absence of 4G (but being on Three's network this is perhaps less of an issue than it otherwise would be) and the use of Android 4.2.2 out of the box – Acer is promising a KitKat update in the future, though. On the whole there's a lot to like about the E3, especially if LTE data speeds are not at the top of your list of requirements. My review unit was network-unlocked despite the Three splash screen and was mercifully free of carrier bloat.
Price £135
More info Acer
Alcatel Idol S

Once upon a time, Alcatel was known for making budget tat. But no longer. The Idol S is an impressively thin (7.4mm) and light (110g) device which packs a superb 4.7-inch 720p IPS display. It looks like a quality bit of kit too and is made from what feel like premium materials. In short, it's by far the best looker in the group. As with the Moto G, you get LTE connectivity, but there's also dual-band Wi-Fi and a good 8Mp camera at the back.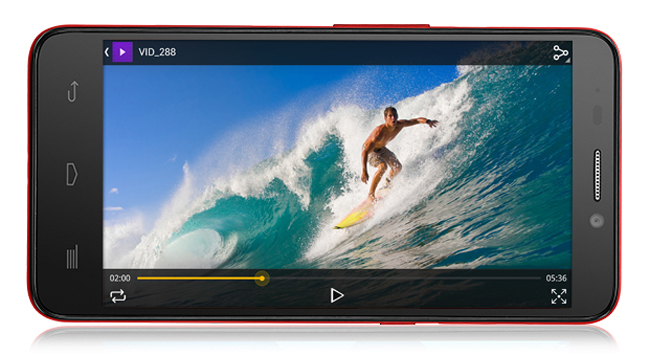 It's a reasonably powerful device for the price and uses the same Qualcomm 1.2GHz dual-core chip and Adreno 305 GPU as the Motorola Moto E, again with 1GB of RAM. It's still a decently slick device though, thanks to Alcatel's Android 4.2.2 overlay not overly taxing the system. The launcher adds some useful widgets into the mix too.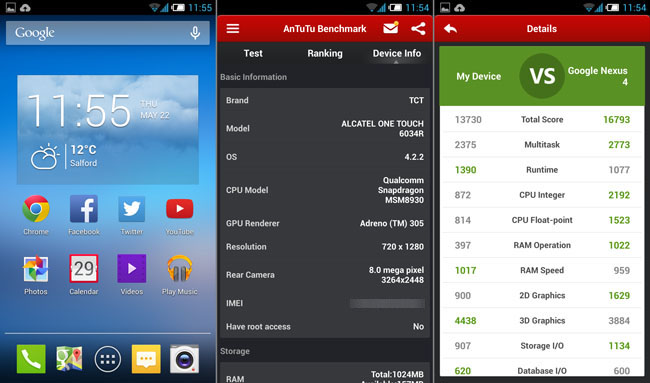 Homescreen and AnTuTu device info and rating – click for a larger image
There's only 4GB of storage, which is a bit of a hamstring, but you do get a micro SD expansion slot. However, there's no NFC chip or USB host support. With a device this slender, it's no surprise the 2,000mAh battery is fixed. All in all it's an attractive package indeed but availability may be an issue. When I started this review, EE was offering the Idol S for £99 on PAYG, which struck me as a very good deal, but it seems to have dropped it in favour of its own brand Kestrel (reviewed below). That's a shame.