New images captured by the Rosetta comet-chaser reveal that its target, comet 67P/Churyumov-Gerasimenko, may be a "contact binary" – a class of object with two distinct and different segments.
The European Space Agency (ESA) has been kind enough to provide an animated GIF of the comet to show off the two distinct parts of the rock.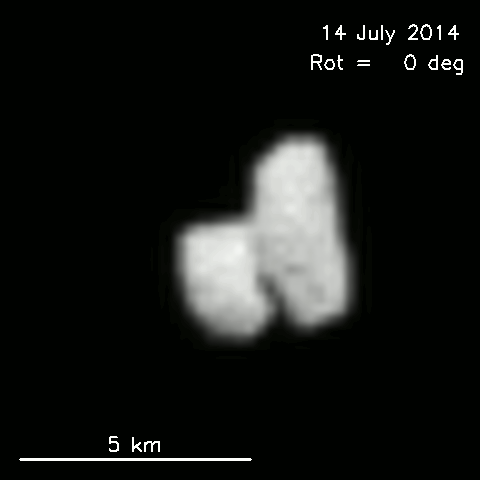 Rotating view of comet 67P/C-G on 14 July 2014.
Credits: ESA/Rosetta/MPS for OSIRIS Team MPS/UPD/LAM/IAA/SSO/INTA/UPM/DASP/IDA
The peculiar shape of comet 67P has, the ESA says been compared to that of a duck. A rubber duck, presumably.
Whatever the object resembles, ESA boffins say such objects aren't unusual. Just how they end up in these shapes isn't known.
One hypothesis suggests the comet is a cosmic mash-up that came about when two smaller rocks collided. Another idea the ESA is floating is that comet is a pile of rubble that has been pulled into its odd shape by gravity.
Or perhaps there was once a girdle of ice about the "waist" of the comet, but the ice has burned off during its long cosmic wanderings.
The .GIF above was captured 12,000km from the comet. Rosetta reaches its destination on August 6th, when we'll get a better look at whether it quacks like a duck as well as looking like a duck. ®
Similar topics