The BBC is scrambling to fix what appears to be a number of severe technical glitches on its network, after its website and catch-up TV service were hit by a major outage at the weekend.
At the time of writing, Auntie was still carrying a "simplified version" of its BBC website on its homepage. The Corporation said:
"We are working to restore normal service."
Beeb fans first started complaining that they were unable to access television shows via the BBC's iPlayer service on Saturday morning.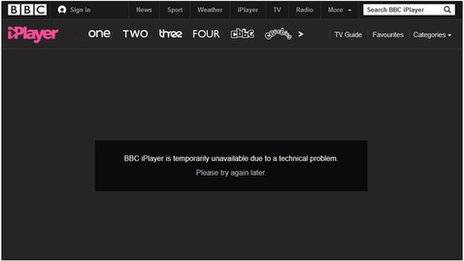 Computer Auntie says 'no'
Many moaned about the technical blunder on Twitter, demanding to know when highlights of Formula One and Stephen Fry-fronted QI would return.
By Sunday morning it was becoming clear that the BBC was suffering from a major outage. At one point, its News website and radio service were also affected by the cockup.
We're hoping to get @BBCiPlayer @BBCiPlayerRadio & @bbccouk up and running for all of you soon. We apologise for the inconvenience. #iPlayer

— BBC (@AboutTheBBC) July 20, 2014
The BBC did not reply individually to the many tweets that flooded its Twitter account, however.
@BBCiPlayer Nearly 48 hours of outage. Any information about what is wrong and when it will be fixed. Come on. You're not children.

— Zio Bastone (@ziobastone) July 21, 2014
Looks like the BBC iPlayer pages are still goosed :( There goes my Proms catch up day.

— Graeme Neil Reid (@GraemeNeilReid) July 21, 2014
Error messages continue to persist for some users of the iPlayer on both the web and app versions of the service.
The BBC has stayed silent about the continuing glitches. It's been nearly 12 hours since Auntie updated its users about the outage. ®