Apple gets patent for WRIST-PUTER: iTime for a smartwatch
It does everything a smartwatch should do ... but Apple owns it
Rumors that Apple will unveil a smartwatch this year became slightly more concrete on Tuesday when the news broke that Cupertino had been granted a patent for a wearable device that may or may not be called iTime.
As detailed in US Patent 8,787,006, the device is "an electronic wristband to be worn on a wrist of a user," which includes a "mobile electronic device" with a screen and the ability to communicate wirelessly with other devices.
Or, as Apple explains in the patent summary, "the invention pertains to an electronic wristwatch."
The text of the patent doesn't give any formal name for the device, but one of the accompanying drawings shows the screen labeled with the word "iTime" – though there's no telling whether Apple will stick with that moniker when/if the device actually ships.
So what makes Apple's smartwatch different from the others? As usual, the language of the patent is sufficiently obtuse that it's hard to picture what the finished product might look like, but we can make some educated guesses.
For one thing, unlike the wearables we've seen so far, Apple seems to divide its gadget into two pieces: the aforementioned electric wristband and a second piece, the "mobile electronic device."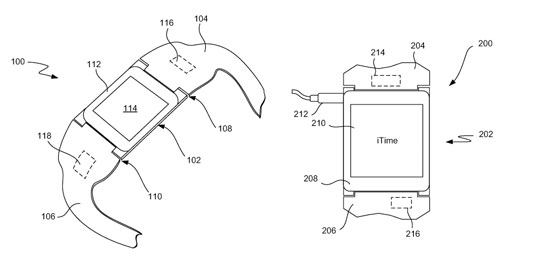 Sure looks like a smartwatch to us! Apple may be late to the wearables party, but it's got a patent
According to the patent, the mobile electronic device is "independently useable apart from the electronic wristband" – in other word, it detaches – but it can be coupled with the "receptacle area" on the wristband to perform a second set of functions as a combined unit.
The wristband can also contain a number of electronic components, including such things as an accelerometer, a GPS receiver, a wireless communication transceiver, a haptic device, a "printed circuit substrate" (mysterious!), or a battery.
The watch is designed to be used in conjunction with other devices – including mobile phones, portable computers, or desktop computers – via a "piconet," which we take to mean Bluetooth.
For example, when paired with a mobile phone, the watch can display notifications of incoming calls, which the wearer can then accept or decline. "Hence, advantageously, the user can use the electronic wristband ... as a remote Input/Output (I/O) interface for the mobile phone," the patent cheerfully explains.
Other kinds of notifications the watch could receive, the patent says, include calendar alerts, stock alerts, weather alerts, and alerts when the paired device goes out of range. The device could also use sensors to detect arm or wrist motions and perform actions accordingly.
In other words, it's as we said earlier: it sounds an awful lot like a smartwatch, and many of the devices already on the market can do much of what Apple's patent describes. But given that the iThing maker originally applied for this patent in July 2011, there's no telling how much impact it will have on the other companies in this space.
If Apple's past track record is any indication, however, keep your eye on the courts. ®