Boffins fill a dome with 480 cameras for 3D motion capture
'Panoptic studio' doesn't need no stinkin' sensors
---
Video Move over Gollum: Carnegie-Mellon boffins are working on 3D motion capture that works without tracking sensors, and can pull together images from hundreds of sensors.
Their work, documented in full here, goes way beyond the motion capture tricks that let Peter Jackson give Gollum and King Kong to the world: they put their subject inside a geodisic dome, and capture their movements with 480 cameras.
With that many input images plus the ability to identify thousands of tracking points in any given image, the system is able to work with 100,000 points at a time without markers, and track those through hundreds of frames. Since a lot of that ends up as noise, a big chunk of the smarts of the system exists to decide what to include and what to exclude from the final capture.
The university says the two-story dome – the Panoptic Studio – has been used to capture activities as diverse as volleyball games, air currents and "a cascade of confetti".
To eliminate data that doesn't need to be included, the software estimates visibility based on cues from motion. The system tries to identify patterns it can use as tracking points, and for each point, "the system then seeks to determine which cameras see motion that is consistent with that point".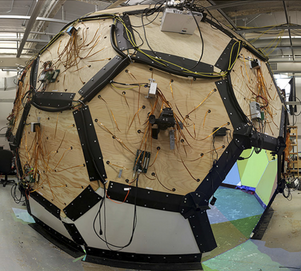 Carnegie-Mellon's Panoptic Studio
Hence if a tracking point becomes invisible to a particular camera, the input from that camera can be ignored (incidentally reducing the processing load on the system).
The MAP – maximum a posteriori – system "increases tracking performance producing longer trajectories, at more locations, and at higher accuracies than methods that ignore visibility or use photometric consistency alone", the researchers write in their paper.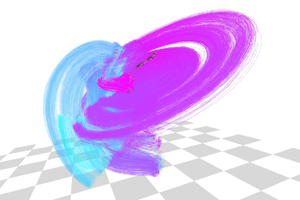 The swing of a baseball bat, reconstructed by MAP
The Register imagines at least one possible application that will have game studios keenly interested in the technology. Outside the dome, the researchers speculate that the system could be applied to motion capture on an even larger scale. For example, hundreds of camera-phones capturing live sports could become the input images to MAP, rather than the controlled environment of the Panoptic Studio. ®