This article is more than 1 year old
The triumph of VVOL: Everyone's jumping into bed with VMware
'Bandwagon'? Yes, we're on it and so what, say big dogs
Mega-roundup A storage array access revolution is coming, says VMware as it releases its VVOL Virtual Volumes. These allow storage arrays to do a virtualised server's bidding and have storage pools and operations carried out in VMware virtual machine-centric ways.
VMware has announced its beta programme for a forthcoming release of VMware which includes VVOLs.
How are storage suppliers progressing with their VVOL support? This is a selection of what some suppliers are doing; there are too many to fit in one story and we'll add a second tranche later.
Atlantis Software
Atlantis Software has a strong VVOL support and benefits proposition. Founder and CTO Chetan Venkatesh said: "Atlantis will be demonstrating VVOL capability on Atlantis USX at VMworld 2014. Atlantis has a very disruptive value proposition for VVOL technology and believe we are the secret weapon that allows VMware to completely virtualise storage and commoditise SAN/NAS (even more than VSAN does) by allowing all storage (past, present and future) to instantly become VVOL compliant with Atlantis USX."
"This would allow any VMware customer to manage their SAN/NAS, irrespective of manufacturer, through VVOL without needing to update/upgrade/refresh their SAN/NAS hardware. Atlantis USX brings VVOL support to 300 billion dollars of deployed storage infrastructure in production today. Every SAN/NAS model in the market automatically becomes VVOL capable with Atlantis USX," continued Venkatesh. So how does this work?
Venkatesh again: "Atlantis USX 2.0 (GA in Aug 2014) will provide VVOL storage policy based management. USX can virtualise and pool all forms of storage - SAN/NAS or DAS and even cloud (use Amazon S3 bucket storage as near line block storage). This pool of storage can be managed completely as VVOL objects - a VMware administrator can set policy at the container or per-VM level of what specific storage capabilities they want enabled."
"The capabilities are enabled via Atlantis USX data services. These are capabilities like - deduplication, compression, encryption, snapshot, clone, replication, long distance mirroring, n-way replication, backup and DR. The underlying storage does not need to support either VVOL or the capability - Atlantis USX provides the VVOL abstraction as well as the data services to the hypervisor and makes whatever storage is plugged into USX VVOL compliant." "VVOL will be available as a technology preview and be GA in the same time frame as vSphere 6."
DataCore
DataCore CEO George Teixeira said: "We are on the VVOL bandwagon.[It] breaks old VMDK and LUN mapping limits and makes it easier to add DataCore value in VMware world."
EMC
The storage kingpin says its VMAX, VNX, ScaleIO and XtremIO arrays will probably have VVOL support in the second quarter of 2015. ViPR, the multi-protocol and heterogeneous software storage resource management product, will support VVOLs as well.
HDS
HDS spokesperson Fred Oh said: "In general, we view the VVOL (aka vVol) architecture as something that will positively benefit vSphere administrators by abstracting even more storage specifics - especially at the protocol level. From Hitachi's perspective, virtualisation at both the server and storage levels is a good thing, and in line with our unified storage and converged computing strategies."
Oh added: "We expect policy-based storage provisioning, capacity efficient per-VM level snapshotting/cloning, and management integration value-additions implemented by HDS will make our storage solutions more compelling. Ultimately, VVOL is just another evolutionary step in abstraction to provide ease-of-use and empowerment to virtualisation admins."
So we asked him a few questions.
The Register: Which HDS storage systems will support VVOLs?
Fred Oh: We are developing support and targeting certification of VVOL over NFS with the Hitachi NAS Platform (HNAS) 4000 series. Our Hitachi VSP G1000 will also support VVOLs over Fibre Channel. We also have future storage controllers in the works that will support VVOL when released. The Hitachi Unified Compute Platform (UCP) will leverage these developments and demonstrate tighter integration with our compute blades running vSphere.
The Register: Is there a sharable time table for this?
Fred Oh: VVol support with NFS (HNAS 4000) is targeted to be GA/certified at Day 0 of vSphere 2015 release (CQ1-2015). VVol support with FC (VSP G1000) is targeted to be GA/certified by CQ2-2015
The Register: Will it involve a storage array software update?
Fred Oh: For existing platforms, yes, there will be firmware upgrades required for this. With enterprise storage, firmware upgrades are non-disruptive and do not require downtime of our systems.
The Register: Will it involve a storage array controller hardware update?
Fred Oh: No. It will support exiting Hitachi Unified Storage with HNAS 4000 series controllers and VSP G1000 systems
The Register: How will it impact virtualised server to storage array interaction?
Fred Oh: The HDS implementation of Unified VASA providers for VVol provides the foundation for richer more granular VVol-VMDK level data services. It provides a richer interaction so that VMs receive the storage and offload services they need while efficiently allocating those services to just the VMs that need it. It will allow HDS customer's to exploit inherent capabilities of our FC and NFS storage platform and their associated services seamlessly; and match the needs of VM to appropriate storage services at greater levels of data centre efficiency.
For example, it will allow tasks like deploying VMs and VM snapshot management to be offloaded to the storage controller for greater operational efficiency - such as 100 Million VM snapshot support with NFS platform, or the ability to allow individual VM and associated VVols to be placed into a global active device (distributed topology) configuration for highest availability.
HP
Hewlett-Packard is an enthusiastic VVOL effort participant. It engaged from day 1 in the VVOL beta testing programme with the 3PAR StoreServe array.
Blogging, tweeting and mailing spokesperson Calvin Zito said, via various media: "We will support VVOLs on day 1. We've been working with VMware from the ground floor on this one. ... I have a demo I did too (video on YouTube.) It has more views than [EMC's] Chad [Sakac]'s demo. LOL!"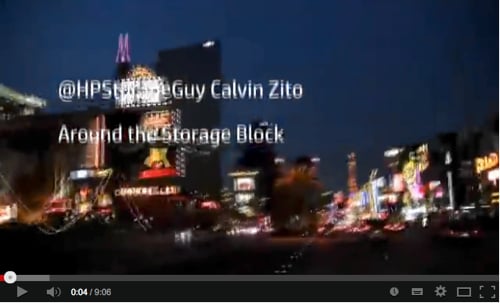 Click to jump to the vid. It's blurry, by the way, because it's a fast video captured with a slow screen grabber
This video was put up on YouTube in October 2012; that's early.
PS: We understand IBM ran a flawless VVOL support demonstration with its XIV array at VMworld 2013.