The triumph of VVOL: Everyone's jumping into bed with VMware
'Bandwagon'? Yes, we're on it and so what, say big dogs
---
NetApp, Pure, Tintri and Solidfire
NetApp
NetApp was a very early VVOL bird indeed.
Senior solutions manager Graham Smith provided some info via email about the original inception of the VVOL idea: "It started as an initiative between NetApp and VMware to extend VAAI storage offloads and had started before I joined NetApp 4 years ago. EMC and Dell were also early partners. I believe the idea was first presented at VMware 2011."
He talked about the current activity: "We are supporting the VVol beta that went public last month with a shipping version of Clustered Data ONTAP (8.2.1), along with a beta version of our VASA provider and our vCenter plug-in VSC (Virtual Storage Console), to provide the user interface. Customers can also download the Clustered Data ONTAP simulators (a VM) from our website and set up a virtual environment to try VVols."
"Our support of VVol covers SAN (FC and iSCSI) as well as NFS. NetApp is also a key design partner. If you sign up to the VMware beta for vSphere, you will see NetApp is 1 of 3 vendors (as of today), and the only vendor that allows open access as the other 2 vendors seem to be restricting the release of their beta code."
We probed him a little further:
The Register: Why is NetApp participating in the VVOL effort?
Graham Smith: Simply put, it helps our joint VMware/NetApp customers leverage ONTAP's abilities such as per Virtual Disk cloning, Snapshots, QoS setting and mobility into a usable VM granular management framework (vCenter).
Pure Storage
Pure Storage is another keen VVOL developer.
The Register: Which Pure Storage systems will support VVOLs?
Pure: All FA-400 series arrays, as well as future platforms.
The Register: Is there a sharable time table for this?
Pure: We will deliver support for VVOLs following VMware's GA release, which is expected in 2015.
The Register: Will it involve a storage array software update?
Pure: Yes, an updated version of the Purity Operating Environment will be required. All customers with active support contracts will be able to non-disruptively upgrade their FlashArrays to support VVOLs, at no cost and with no disruption to IO operations and performance.
The Register: Will it involve a storage array controller hardware update?
Pure: No hardware upgrade is required, provided the customer is on a supported array.
The Register: How will it impact virtualised server to storage array interaction?
Pure: VVOLs will provide a level of need to end management and operations that has previously been unavailable with virtual infrastructures. We should expect to see greater capabilities in areas of performance, quality of service, simplification of backups and reduced RTOs, and end-to-end reporting and monitoring.
Solidfire
Solidfire has VVOL support planned and was, we understand, one of VMware's early tech partners in VVOL development. It has a video up on YouTube that demonstrates its Quality of Service facilities working with VVOL.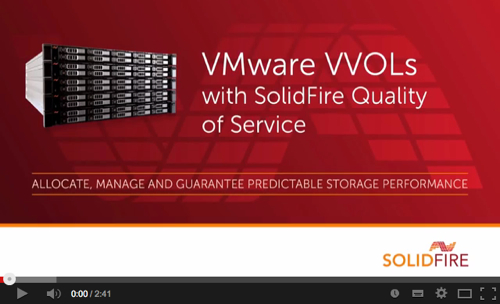 Click to play the Solidfire VVOL demo vid
PS: Hybrid array startup Tegile has VVOL support planned.
Tintri
Tintri has been the pioneer in producing VM-aware storage arrays.
A Tintri spokesperson said: "Tintri and VMware share the same view that the traditional storage model doesn't work for virtualised environments. Tintri has been a VVOLs design partner and we are working with VMware on VVOLs. We demonstrated our VVOLs implementation at VMworld last year and will be doing so again at this year's VMworld."
"While it was very straightforward for Tintri to implement VVOLs on our VM-level architecture, it will be far more difficult to provide a good implementation on a storage system designed to support LUNs or volumes. For those customers who want to use VMware's VVOLs, Tintri will have the best implementation in the market that leverages our FlashFirst architecture to provide 99 per cent of all IO from flash for consistent sub-millisecond latencies."
"Also, unlike other vendors' implementations, customers using Tintri VMstore systems will be able to leverage per-VM replication using Tintri ReplicateVM and built-in per-VM QoS mechanisms."
We'll add information about additional VVOL-supporting storage vendors in a subsequent story. We think it will be a rare storage supplier that does not support them.
OK, you got me; maybe StorSimple might. ®