This article is more than 1 year old
SAP: It was our Big Data software wot won it for Germany
Vorsprung durch grossendatatechnik, as we like to say in Germany
When England played in Ecuador and Honduras for "warm weather training" in June ahead of the World Cup, they'd already lost the tournament – they just didn't know it.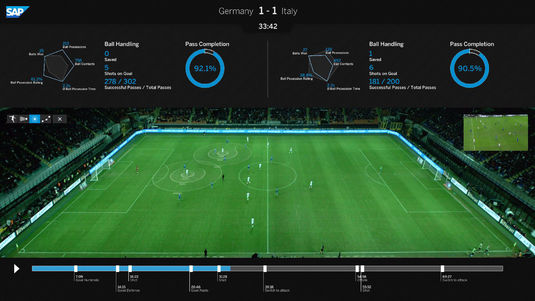 Do the bendy data, SAP
Wayne Rooney and Co took to the field in Florida to adjust to the hot and humid climate they'd face in Brazil and to recalibrate to the tempo of South American players. But unbeknown to them, Germany already had in their possession a weapon that would help them lift the 2014 World-Cup trophy, their first since re-unification in 1990.
This weapon was a piece of specially designed software from SAP running Hana - its in-memory database architecture - to hoover up and crunch vast amounts of data on the performance of the German players and their opponents.
Oliver Bierhoff, manger of the German national team and former striker, was unequivocal on the difference the SAP software had made.
It had "transformed the football experience" for coaches, players, fans and the media, he said.
"Today each sports team is looking for innovative ways to gain competitive edge over its rivals," he said in tinned quotes provided by SAP.
For Germany, it was the culmination a multi-year campaign to rise above narrowly getting beaten, as they were in the 2006 and 2010 tournaments.
"When Germany lost in South Africa in 2010, there was a certain disappointment. We did post-tournament analysis to figure out what went wrong and how to win the World Cup in 2014," SAP's head of football sponsorships Nicolas Jungkind told The Reg.
The software in question was SAP Match Insights, built by SAP alongside the German team. The system is based around a series of key performance indicators (KPIs): how to make the German game faster and get in front of the goal more quickly.
Average ball possession became a critical factor with the need to look at receiving the ball, control, passing and pass completion.
"Every training session was around that KPI - to make the game faster," Jungkind said.
Crunching the data, the coaching staff could see the German players had been holding onto the ball for too long and the need to speed things up.
By the time of Brazil, average ball possession was down to 1.1 seconds compared to 3.4 seconds at the time of the World Cup in 2010.
Throughout the tournament, the Germans conceded four goals but scored 18 – seven on one particularly unfortunate evening for Brazil.
How did it work?
The system was fed by a system of eight high-definition video cameras giving a panoramic view of the pitch and using data capture and analysis software from Amisco.
Visual recognition algorithms were needed to identify players as FIFA forbids use of physical tags that might otherwise be used to capture and transmit data.
Amisco specializes in match analysis technologies and services, and customers includes club teams such as West Ham United. West Ham installed the player tracking system at Upton Park. Match analysis is a big business, and users of Amisco include European Championship hitters Bayern Munich, Inter Milan, Marseille and Real Madrid.
SAP would argue the difference in the case of the German team was the application of Hana to chew through match data and run lots of different queries.
The system captured 5,000 data points per second.
The data was fed into a system running Hana that extracted the KPIs and personal player information, with information queries during SAP analytics. Data was presented through a GUI build using SAP's data visualization tool, Lumira.
GUI is not unlike an Xbox or PlayStation game and lets coaches draw lines on screen between players to see the distance between defenders and draw concentric circles around players to see in actual quantifiable units the space between players, rather than guessing it.
There were other spinoffs; the ability to judge the effectiveness of playing tactics on individual opposition players, such as baiting them into attack.
It beat the traditional tactic, of taking copious notes and watching hours of video playback in an attempt to catch the vital moment you're looking for.
SAP showed off the GUI on a recent visit to the UK offices outside Heathrow. The match showing was a Germany versus Italy game.
"When you think about a football player they want to consume information in a radically different way to somebody who is an accountant, they want to see the data in their world," SAP veep Chris Burton said.
"You can capture this video to analyse how Thomas Mueller did or you can snip the 30 seconds of time that related just to Mueller.
A prototype was delivered in March with final delivery in May – before England took the field in Florida - for use at the Germans' specially built compound and training ground 682 miles from Rio de Janeiro's Maracana Stadium.
SAP tells us the German team set two requirements for the system: one, the software had to run on site at the squad's HQ, as the data was considered so valuable it wasn't allowed off premises – so, no Cloud. Instead, they ran a Hana server at the German team compound in Brazil on their own hardware.
SAP says it doesn't know what hardware, as the German team rejected SAP's recommendations and proceeded with their own pick instead.
Also, it had to be sufficiently simple for the German team's staff to use without SAP support.
"When got to Brazil we gave it to them and there was nobody from SAP there - that was one of the pre-requisites - there that were no technology people there," Jungkind said.
Now the tournament is over, SAP plans to turn Match Insights into a product.
Chris reckons SAP sees big potential on the back of the German result. The software can be used by teams and coaches to improve and to maintain an eye on the health of players, while there's also the opportunity to provide add-ins for fans.
"Imaging if the fans had the same access to this," muses Burton.
"Our first task was to support out home team, but let's make no mistake - this type of technology is the future of sport. We also think the ability to have instant insight on sports like this where there are health risks can make things safer," he said.
"This is not a product yet. It will become a product, and we will sell it."
Pay attention, Football Association. ®