This article is more than 1 year old
Kickstarter tin-rattlers offer reboot of '80s Integrated Space Plan megagraphic
But ours is better, and it's FREE - click right here
Those readers with a large blank wall space and a penchant for enormous flow charts outlining mankind's future beyond the surly bonds of Earth should nip down to Kickstarter where for a mere $25 you can secure yourself an updated Integrated Space Plan (ISP).
The original ISP was an impressive piece of work made back in the 1980s by Ron Jones at Rockwell International. It was described as "a very long range systematic perspective of America's and the Western World's space program".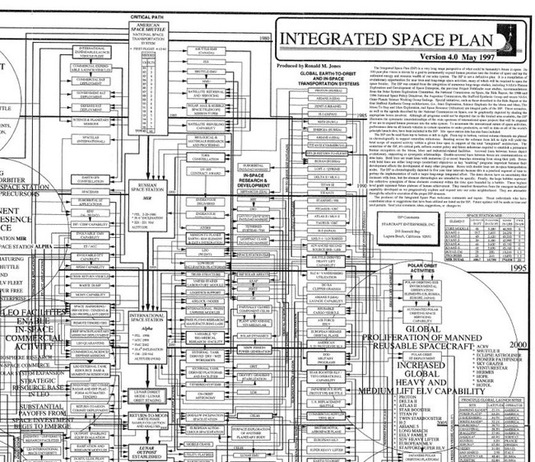 An extract from the Integrated Space Plan. Click on the image for a bigger version
The Rockwell blurb continues: "Its 100-plus year vision was created from the integration of numerous NASA long range studies…The ISP is not mean to be a definitive plan for the development of space, but rather a compilation of evolutionary opportunities for our near-term and long-range space activities."
Well, things didn't quite pan out as planned. For starters, we're still way off transitioning from "a terrestrial to a solar species", something which the ISP reckoned might have kicked of by 2030 or so.
Accordingly, a revised ISP is the order of the day to better reflect the actual state of play, and Kickstarter tin-rattlers Integrated Space Analytics will knock up a fresh graphic vision showing "today's programs and the current view of how our future in space will develop".
A rejigged ISP can be yours for just $25, while those with deeper pockets can choose from a range of bigger rewards, including an ISP signed by Ron Jones for $60.
Pretty good prices, but we at El Reg are today offering our own preferred ISP for free, which we have no doubt will be adorning the walls of rocket laboratories worldwide within days:

®