This article is more than 1 year old
Major problems beset UK ISP filth filters: But it's OK, nobody uses them
It's almost as though pr0n was actually rather popular
Blocking the blocker
Elsewhere in the Ofcom report, BSkyB was found to have been bombarded with more re-categorisation requests than any other ISP since implementing the filters. It said an average 110 reports had been submitted from customers each month, of which an average of 27 sites had been mis-categorised.
BT, on the other hand, claimed it had only received eight such requests from content owners with six sites being incorrectly blacklisted since its launched its system late last year.
TalkTalk said it had approximately five such requests from site operators each month. The budget telco claimed that only five per cent of those reports had proved to be cases where sites had been wrongly caught in its filter system.
Since February, when Virgin Media debuted its DNS-level filtering system, the company has received 23 complaints from customers, of which 13 sites were found to have been wrongly added to a block list.
Ofcom noted later on in its report that BSkyB based its URL blocking system on its DNS servers with access to whole domains being cut off based on its blacklist. In contrast, BT, Virgin Media and TalkTalk only target specific parts of a domain with their filtering tech.
BSkyB is able to more adequately apply its system to apps as well as web browsing, the regulator said. But it may also explain why BSkyB has fielded many more complaints about over-blocking compared with its competitors.
Ofcom added that telcos were failing to cooperate closely when over-blocking of sites does occur. It said:
Currently, none of the ISPs' filtering services feature a process by which identified mis-categorisations are shared with other ISPs, even if these are identified within common categories shared by all ISPs. This could mean that errors identified by one ISP may persist for others.

However the ISPs are all members of a UK Council for Child Internet Safety (UKCCIS) working party on over-blocking, which is a possible arena for harmonisation.
The report also revealed that BT censors more categories of content than any of its rivals. It blocks access to dating, gambling and social networking sites, and is also much more prudish about nudity compared with TalkTalk, Virgin Media and BSkyB.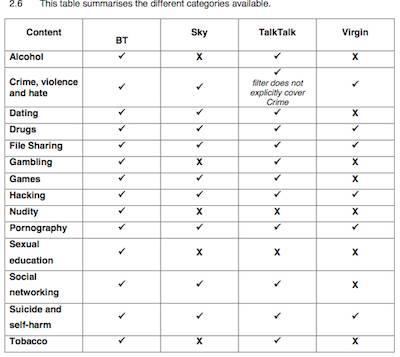 BT's filters block EVERYTHING that might BURN your EYES
As your correspondent noted late last year, Ofcom has no power to intervene on over-blocking because it's not involved in policy-making in an area that continues to be a sensitive issue for broadband customers in Blighty who fret about censorship of the interwebs. ®