SK Telecom and Ericsson have demonstrated a technique they call "elastic cells", which the two say should improve mobile connectivity in difficult environments.
Ever since the earliest days of mobile phones, phones have logged into the base station that presents them with the "best" signal. Each handset is dedicated to the cell it's logged into, and ignores signals from other nearby cells.
Sometimes, that can lead to less-than-ideal performance – for example, moving between buildings in a dense CBD might introduce signal fade and reduce download speeds. The mobile network will try to avoid handoffs between cells that only last a couple of seconds, so will leave the handset connected to its preferred base station and put up with the momentary loss of performance.
The elastic cell technology tested by SK Telecom takes a different approach. It's designed to make several base stations co-operate to connect a handset.
To do that, as SK Telecom explains in its announcement, one cell takes on the role of co-ordinating the system. The "serving cell" receives reports from other nearby cells, decides which cells "can improve the network quality in the cell-edge for transmission", and turns off other cells that would cause interference.
"The demonstration confirmed that the technology can improve data transfer rate by up to 50 per cent at the cell boundary areas compared to the existing LTE network," the announcement notes, adding that the provider intends to commercialise the technology "by 2016".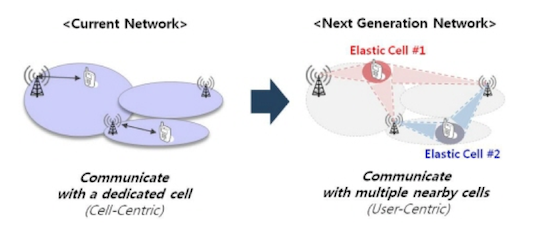 SK Telecom's elastic cell demo.
It would seem to El Reg that while the technology receives the inevitable pitch towards 5G, SK Telecom and Ericsson also have an eye to how cell density can be increased in current technologies without the world descending into an unmanageable mess of spectrum noise. ®