This article is more than 1 year old
REG MAN penetrates GOOGLE'S LAIR
Did he get the good(ie)s? What do YOU think, reader...
Pics A Google Hangout of a different sort took place at its London offices yesterday. And, neatly fulfilling quite a few of our expectations of the Choc Factory, we ogled tech while milling around a real chocolate fountain.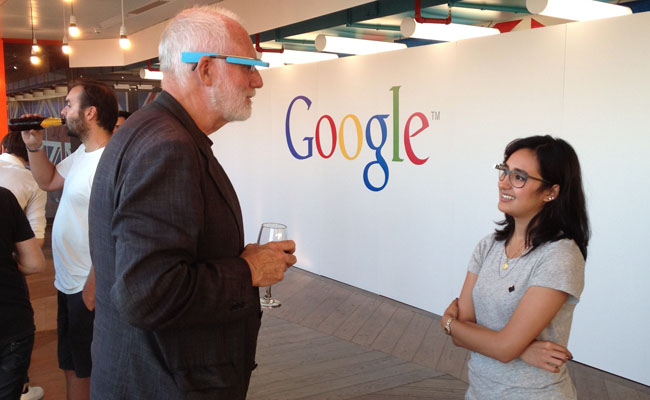 Making conversation Google Glass style: record it so you can enjoy it all over again
Yes, we're talking Christmas in July again, the silly season where vendors and resellers showcase Yuletide bound products including some that aren't available to buy just yet... and the press were invited to savour some Chocolate Factory festive fare.
Having dodged the assimilation of hacks adorning Google glassware, I made it to the Christmas tree of Chromebooks – which featured all the latest models from the likes of Acer, HP, Lenovo and Toshiba. A welcome sight was the Samsung Chromebook 2 with its 13.3-inch full HD display which is still "coming soon" to the UK.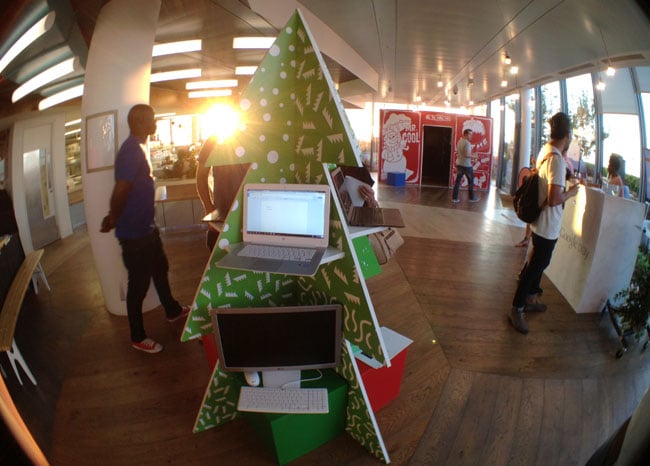 Chromebook Christmas tree with HP's 14-q010sa and LG's 22CV241-B Chromebase desktop version
What makes the memorably named XE503C32 so interesting is that it's powered by Samsung's 2.1GHz eight-core Exynos 5 Octa ARM processor, whereas the bulk of today's Chromebooks rely on Intel's 1.4GHz dual-core Celeron 2955U CPU. In other areas it's much the same with 4GB of RAM and a 16GB SSD. I did a quick boot to login test which took 8.5 seconds – on a par with the Intel alternatives.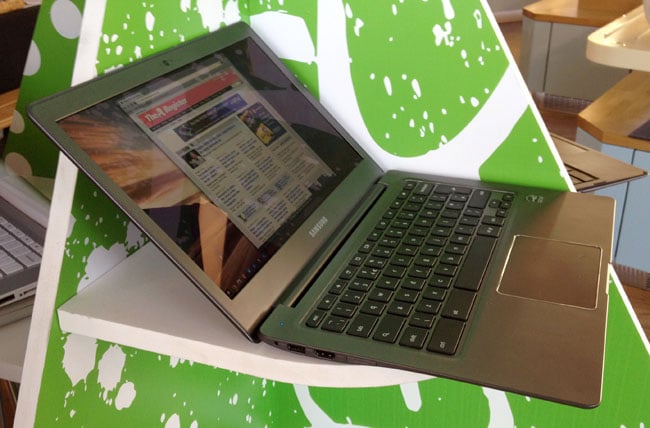 Samsung's ARM powered Chromebook 2 XE503C32 makes its UK debut
Processors aside, another distinction is its stitched leather effect lid. It's a bit subtle, which is probably a good thing, as you do have to look closely to notice it and you won't find this ornamentation on the base.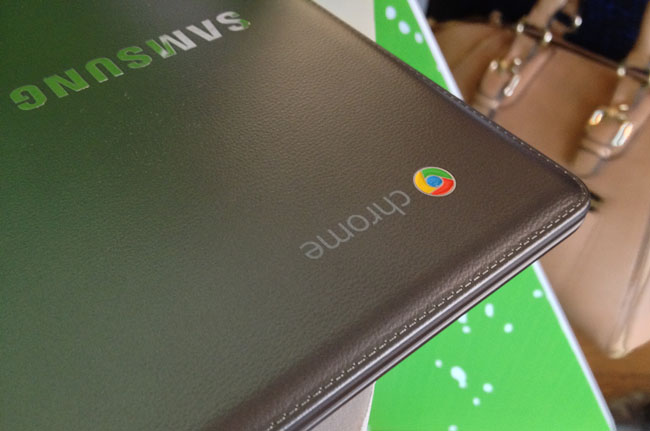 It's a stitch up: fake leather lid anyone?
While it doesn't bend over backwards Lenovo N20p Yoga-style, the non-touch display does tilt back quite far. The 200nit screen is sharp and bright enough but isn't the usual Samsung laptop dazzler league as it's no doubt toned down a bit to save on battery.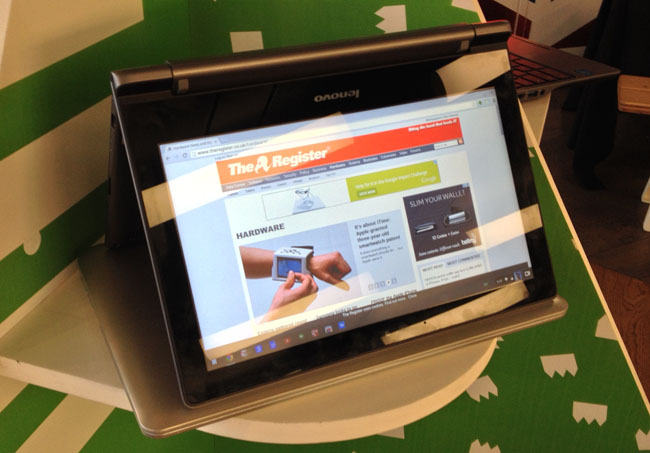 Lenovo's N20p touchscreen bendy Chromebook stands atop a Toshiba CB30
As Christmas tunes blasted away from a Google Play playlist and the Chocolate Factory's chocolate fountain shimmered its indulgence as passing journos daubed strawberries in this edible form of streaming, I dodged the Glassholes again and wound up alongside the watches.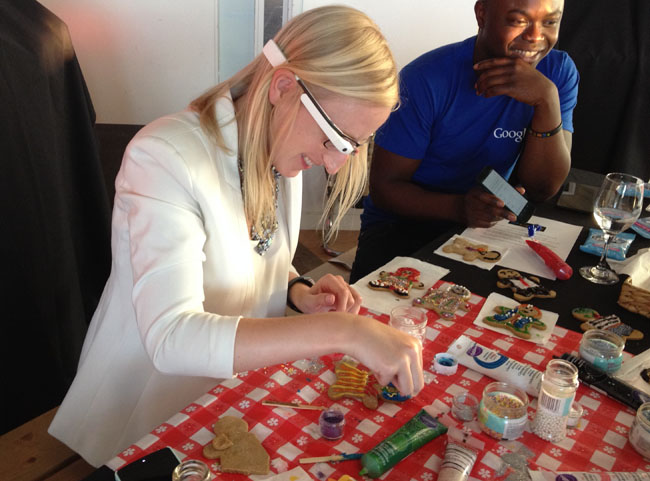 The gingerbread factory? Record your decorative touches on Google Glass