Comment Intel has announced a Pro 2500 notebook SSD that appears to differ from the previous Pro 1500 by just three comparatively trivial specifications.
The Pro 1500, released in Spetember last year, has a capacity range of 80GB to 480GB, while the Pro 2500's range is, er, 120GB - 480GB...
The Pro 1500 has a 41,000 random read IOPS rating while the 2500 has a 45,000 one.
The Pro 2500 in 2.5-inch form has slightly lower power readings:
165mW when active vs the Pro 1500's 195mW active reading
55mW when idle versus the 1500's 125mW idle reading
Apart from that the two tech spec sheets are identical.
Judge for yourself. Here's the Pro 1500 one: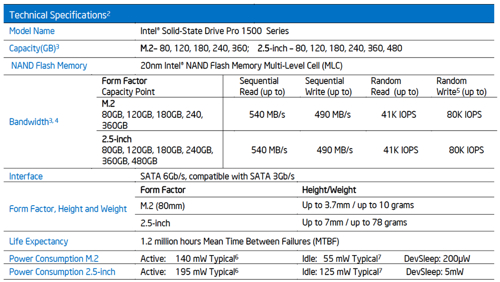 Intel Pro 1500 spec sheet. Click to embiggen.
… and here is the tech spec for the Pro 2500: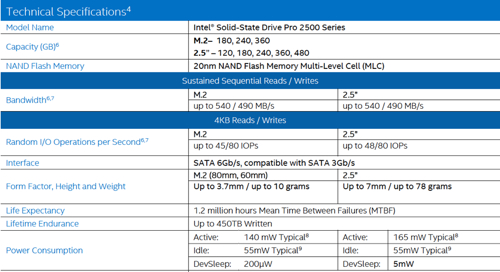 Intel Pro 2500 spec sheet. Click to embiggen.
We've asked Intel to clarify whether there are any other differences between the two products. For now, you can view the Pro 2500 as a minor update on the Pro 1500 with a slightly faster random read IOPS rating in the 2.5-inch form factor.
There is a thorough take-it-apart, speeds-and-feeds-and performance review in the Storage Review website.
What could be the defining difference here is that the device, which uses SK Hynix NAND, has a SandForce controller. This means Seagate, which makes SSDs, is now supplying controllers to Intel for Intel's SSDs. Co-ope-tition can be a strange thing, sometimes. ®