Quantum has refreshed its dedupe box operating system and run up a fresh and faster hardware box.
The DXi range before this announcement consisted of the V-Series software-only product and four hardware and software products:
V-Series: 1 - 24TB of usable capacity and up to 4.9TB/hour
4700: 5 - 135TB and up to 5.9TB/hour
6700: 8 - 80TB and up to 9.1TB/hour
6800: 13 - 156TB and up to 16.3TB/hour
8500: 45 - 330TB and up to 11.1TB/hour
Now we have a DXi 6900 which slots in above the 6800 and offers between 17 and 510TB of usable capacity, along with up to 16TB/hour data ingest. It uses 4TB disk drives instead of the 3TB seen elsewhere in the DXi range. These are self-encrypting drives and encryption is always-on with no performance penalty. It inherits the existing DXi capacity-on-demand scheme with 17TB expansion increments.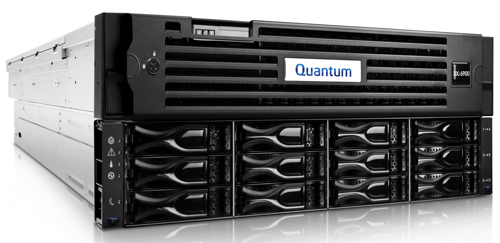 DXI6900 small configuration
Naturally Quantum compares the DXi 6900 to EMC DataDomain's products, and the DD4500 in particular. It claims the 6900 is twice as fast ingesting data, three times more scalable and takes up 50 per cent less data centre space as well as costing less.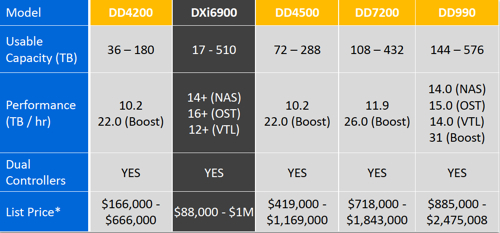 Quantum says its DXi6900 spans the scalability range of four Data Diomain products
Quantum says its simplified deduplicating backup product range now consists of the DXi V-Series, 4700 and 6900. The 4700, 6700, 6800 and 8500 are still listed, supported and available but, over time, the portfolio will evolve to the V-Series, 4700 and 6900 trio.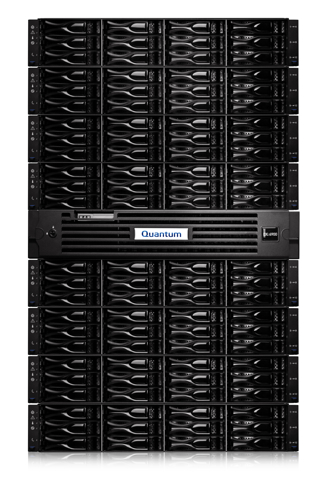 DXI6900 medium configuration. All this glossy black makes the box look big and mean; the Darth Vader of deduplicating arrays.
At the same time as announcing the DXi6900 Quantum has released StorNext 5.0, the DXI operating system which is also, of course, used in the <a target=StorNext virtualised file management products with a big data, multi-file slant for media and entertainment and similar application areas. Version 5.0 features:
Recoded filesystem storing up to 56 billion files
Faster small file performance
Better integration with software partner products
Using Quantum's vmPRO backup of virtual machines you can boot VMs directly from the backup.
Quantum has also simplified its Q-Cloud offering, data protection-as-a-service, with just two pricing levels; less than 30TB and more than 30TB. The Q-Cloud is based on Quantum using CoLo facilities in the USA, UK and Asia. Managed Service Providers can run their own Q-Cloud-based services.
There is a hint from Quantum that flash storage could be used in DXi systems in the future with, for example, metadata stored in flash rather than fast disk. This could could speed data ingest and restoration. ®