This article is more than 1 year old
Amazon Reveals One Weird Trick: A Loss On Almost $20bn In Sales
Investors really hate it: Share price plunge as growth SLOWS in key AWS division
Gigantic retailer Amazon grew sales 23 per cent, year on year, in its second quarter of 2014 – and managed to lose even more money than usual.
The e-retailer and cloud giant reported an operating loss of $0.27 per share on Thursday on revenues of $19.34bn for the three-month period, compared with analyst expectations of a loss of $0.15 per share.
This is par for the course with Amazon, which has typically failed to report profits on its mammoth business as Bezos & Co invest everything back into the biz itself, while also taking part in numerous and highly creative financial engineering schemes.
Amazon shares are, at time of writing, trading down 11 per cent.
For its next quarter, Amazon expects sales of between $19.7bn and $21.5bn, with an operating loss of between $810m and $410m.
There also seems to be trouble ahead in the cloud, as growth is apparently slowing in the company's Amazon Web Services division.
Though Amazon doesn't explicitly disclose figures for its cloud business, it's possible to come up with a credible estimate. AWS revenues are squirreled away in the North American part of the company's "Other" revenue bucket. This quarter, those revenues were reported to be $1.168bn, compared with $1.204bn in the previous quarter, and $844m a year ago.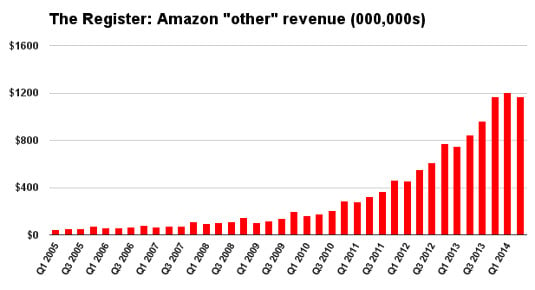 It looks like revenues are slowing in Amazon's cloud-concealing "Other" segment
This marks the first time since Amazon started filing public financial statements that there has been a Q1 to Q2 decline in "Other" revenue in North America.
This is likely because of increased competition from rivals like Microsoft (Azure), Google (Google Compute Engine), VMware (vCHS), and startups like Digital Ocean. Along with this, there's been a series of furious price drops that are likely to have hit revenue.
"We had very substantial price reductions for customers starting in the second quarter," explained Amazon's chief financial officer Tom Szkutak in a conference call discussing the results.
"AWS continues to grow very strongly. In Q2 we had usage growth of close to 90 percent year over year for the quarter."
Changes at AWS could also be affecting Amazon's overall profitability. "The AWS team grew by thousands of employees this past year, expanding AWS infrastructure, enterprise and public sector sales capabilities and allowing the team to innovate at an accelerating pace," Amazon explained in a press release issued alongside the earnings.
Along with this, "purchases of property and equipment," which consists mostly of data centers and distribution centers, grew to $1.290bn in the quarter, compared with $855m in the same quarter a year ago.
Though AWS is likely still growing rapidly, the rise in competition in the marketplace is putting a crimp into its revenues. Given that the margins Amazon enjoys from AWS are thought to be much higher than it gets from its retail business, it looks like the part of Bezos's empire that could give him profits should the Street demand it is coming under sustained pressure. This, if the market loses confidence in Amazon's shares, could be a problem. ®