This article is more than 1 year old
It's Google HQ - the British one: Reg man snaps covert shots INSIDE London offices
Reality distortion field heir apparent
Floor panels

Oh well, UK computing looked promising while it lasted... What have we been doing these last 20-odd years? Perhaps the quirkily named La La Library can help shed some light on the subject? Presumably it's not a shrine to one of the Teletubbies but from the looks of it, we weren't so sure.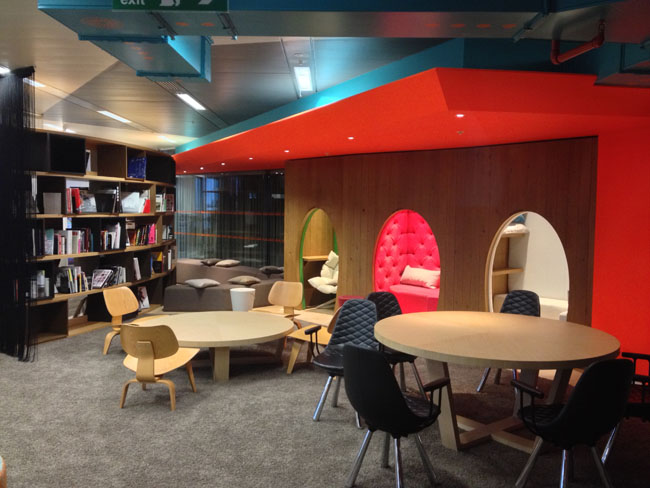 Presumably all books have to be scanned and uploaded to the cloud before they can be read (note the la-la lapdancing booths we noticed last time are still in place - we didn't figure they would feature in the library)
A peek inside shows real books, although it was unclear if the users of the library can read them or if they have to scan them to the cloud first and then view them on an Android tablet. The latter seems most likely to be in line with company policy if the "Leave Your Stuff in One Place" slogan is to be followed.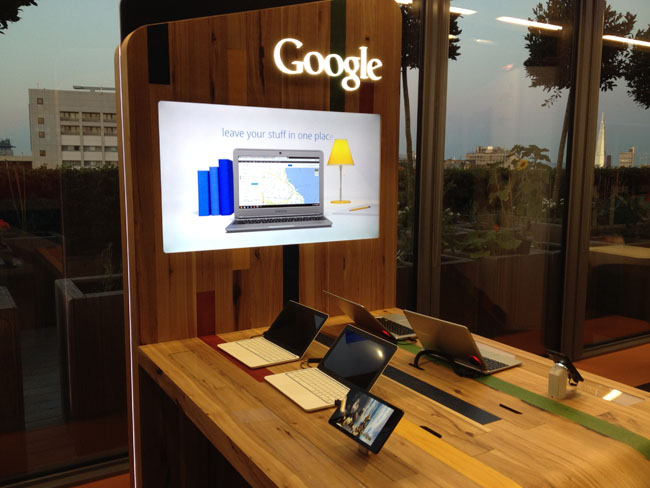 Google-powered devices abound, just remember to leave your stuff in one place
We were trying to work out why there were TV screens in the floor and then remembered the old joke: How can you tell that a computer programmer is an extrovert? He looks at your shoes when he's talking to you. It's good to see Google taking to heart the needs of some of its valued talent in this way.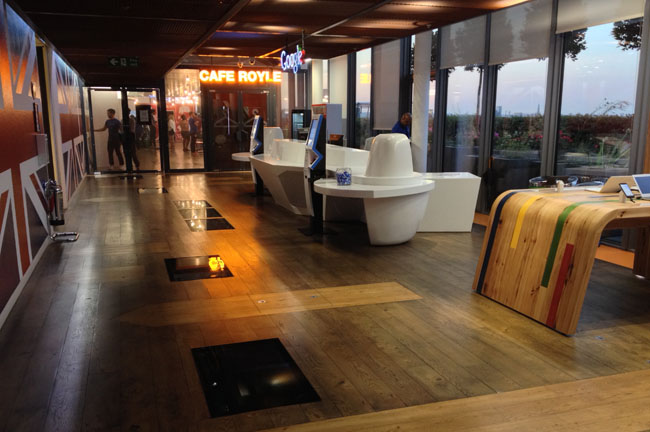 Watch your step: when flickering with life the screens in the floor are an odd distraction for upstanding sorts
Talking of needs, the Lego Android is gesturing us towards the roof garden again. OK, we get the message. You have to walk through canteen to get there and it's a pity it's closed. But we are here after hours so it's just crisps, olives and drinks for now and, of course, a chocolate fountain for strawberry daubing.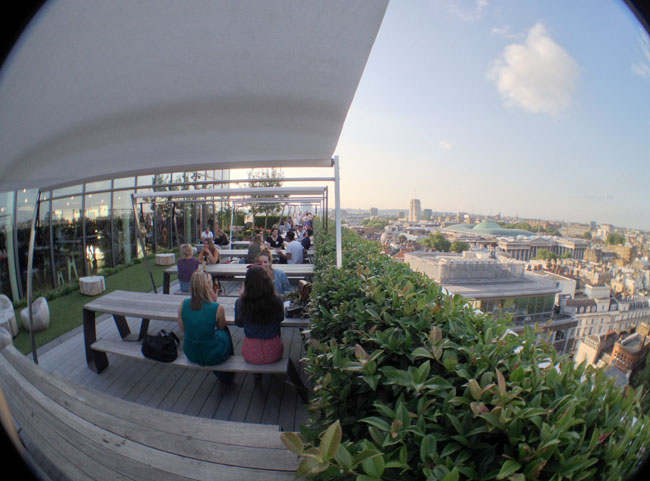 Out in the fresh air and away from the open ceiling pipework that's reminiscent of scenes from Terry Gilliam's Brazil, we wonder if we'll be asked to fill in a 27B/6 when we leave – we get the feeling that Android is a stickler for virtual paperwork.
There's a secret garden out on the roof terrace but obviously a bit too secret as it was cordoned off. Viewed from inside the building, this patch of garden looks a bit like a stretched-out maze, but it could be where they keep Big Dog chained up guarding the aromatic herbs...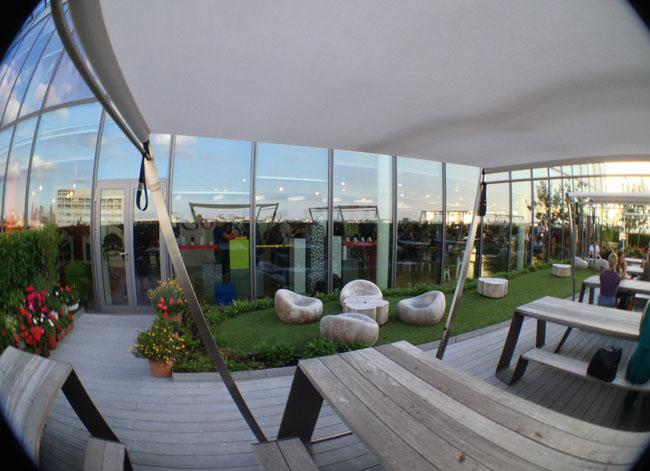 In this environment, it seems quite normal to see hedgerows, patches of grass and sculptured tree trunks 100ft above the ground. Steve Jobs is no longer with us, but evidently Google – even the British branch – is the natural heir to his reality distortion field. ®