Dive in, penguins: Upstart builds Linux virtual SAN
Flash splash into StorPool
Three Bulgarian engineers who co-founded a firm called StorPool – which builds a virtual SAN using the aggregated storage of Linux KVM servers – are aiming to expand the reach of their three-year-old project.
Boyan Ivanov, CEO, Boyan Krosnov, chief product officer, and Yanko Yankulov, the chief tech officer, started the firm in November 2011 with $261,600 seed funding. In February this year they raised an undisclosed amount of cash in an A-round. We'd guess it's in the $1m - $2.5m area.
StorPool software aggregates a KVM server's disk and SSD storage into a single, block-addressed pool in which data is replicated and striped across all drives. In effect, there is a storage cluster set up with a shared-nothing architecture. You can scale capacity and performance independently by adding more drives or more servers or upgraded server processors respectively.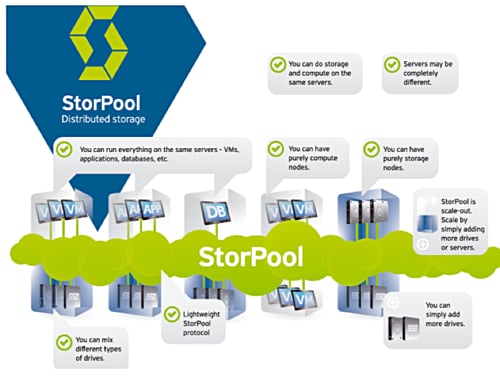 StorPool scheme. Click to enlarge.
We understand a private beta test is under way and also that there is no ability to tier data across SSDs and disk, nor to cache data in the SSDs. Indeed the SSDs must be used in an all-flash volume. The firm says it has tiering between different types of media SSDs / HDDs, even though it is still manual.
As is to be expected with a version 1.0 product from a small startup, there is no deduplication and no compression. However there are big ideas with hypervisor support being extended to Xen, ESX, Hyper-V and more in the future. The firm points out StorPool can also run on LXC or even without hypervisor.
The technology is intended for use by end-users and managed service providers, and comes with either a perpetual or subscription licence. It's said to be affordable, but we don't have any pricing yet.
Request a demo/free trial here (registration needed) and read a FAQ here. ®