This article is more than 1 year old
White? Male? You work in tech? Let us guess ... Twitter? We KNEW it!
Grim diversity numbers dumped alongside Facebook earnings
Twitter has revealed its diversity numbers and – surprise, surprise – they're terrible.
The babble-chat service published a breakdown of its employees by gender and ethnicity on Wednesday [coincidentally, right alongside Facebook's earnings report – Ed]. The figures aren't encouraging for those concerned about the lack of diversity in Silicon Valley.
Overall, 30 per cent of Twitter's employees are female, compared with 37 per cent at Yahoo! and 30 per cent at Google.
Things were worse among the company's leadership, with 79 per cent of top managers male and 72 per cent of them white.
Also, Twitter's "tech" jobs, which include some of the company's most lucrative and coveted positions, are 90 per cent staffed by men, of which 58 per cent are white and 34 per cent are Asian. This is far worse than Google (17 per cent women) and Yahoo! (15 per cent women) from a diversity perspective.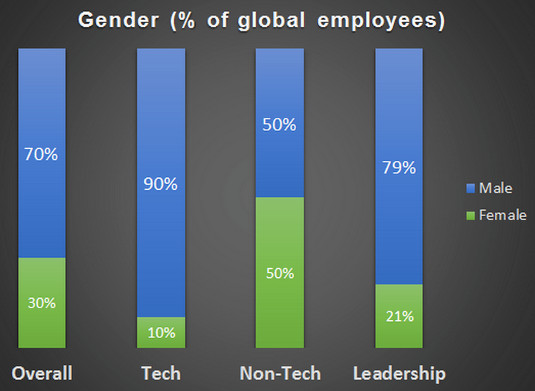 He Said, She Said: Much more "He" at Twitter.
"We are keenly aware that Twitter is part of an industry that is marked by dramatic imbalances in diversity – and we are no exception," the company wrote in a blog post discussing its diversity figures. "By becoming more transparent with our employee data, open in dialogue throughout the company and rigorous in our recruiting, hiring and promotion practices, we are making diversity an important business issue for ourselves."
Already, the company is supporting an organization named "Girls Who Code" to bring more women into its technical organization along with hosting "Girl Geek Dinners" and its affiliation with a local San Francisco group named "sf.girls."
To avoid the common problem of people hiring those who seem most familiar to them, Twitter is also "providing bias mitigation training throughout the organization."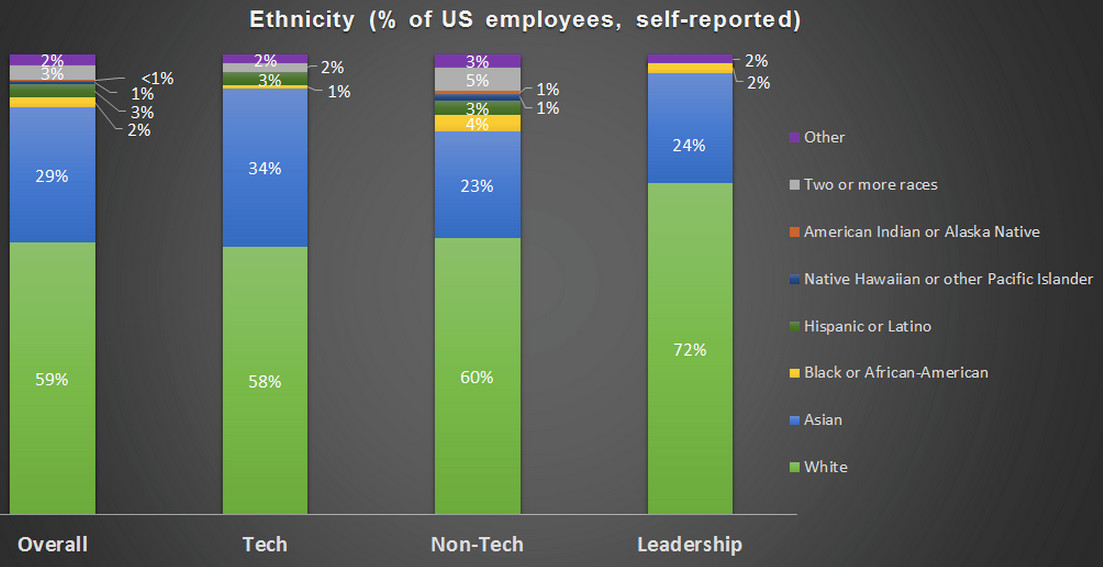 Predictably, Twitter's staff skews heavily white and male (click to enlarge)
A more intractable problem for Twitter may be in ethnicity – where it, like so many other Silicon Valley companies, draws the majority of its employees from white or Asian backgrounds. Just two per cent of Twitter's employees are "Black or African American" and three per cent are "Hispanic or Latino."
According to the 2010 US Census, 12.6 per cent of the country's population are "Black or African American," and 16.3 per cent are "Hispanic or Latino."
Twitter's diversity numbers will do little to salve the worries of a trio of US Democratic congresswomen, who wrote in an op-ed for The San Jose Mercury News in July that: "It is painfully clear the sector faces a persistent and troubling deficit when it comes to women, African-Americans and Latinos." ®