The teardown team at repairs biz iFixit has cracked open Amazon's Fire smartmobe, and it seems the new handset is indeed a complex piece of kit even by modern smartphone standards.
The teardown repair tutorial, designed to serve as both an exploration into the device and a loose guide for home repairs, found a number of unique but complex and occasionally tedious design techniques which will make the Fire Phone a tough task to take apart.
The teardown spotted the expected hardware components in the Fire Phone such as the 2.2GHz quad-core Snapdragon 800 processor from Qualcomm, a 2400 mAh battery and 2GB of Samsung RAM and 32or 64GB of flash storage. The handset sports a 13-megapixel main camera and a two-megapixel front-facing camera.
Among the features noted by researchers was a striking lack of adhesive on many of the components. Researchers found that key pieces such as the internal battery lacked the heavy layer of glue used in other popular smartphones.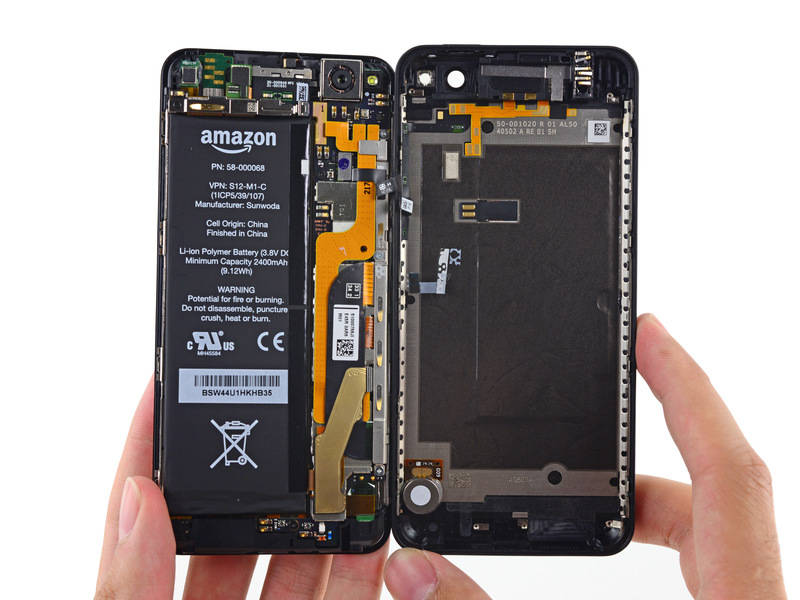 Inside the Fire Phone
Credit: iFixit
Though the lack of heavy adhesives will be helpful to would-be repairmen, iFixit warned that users should take care for hidden or complex cables, such as the one connecting two LEDs, a micro-USB port and the handset's microphone.
"While the lack of glue is a boon to repairability, having so many components on a single cable means that if any one goes, you'll be replacing the whole fire-roasted enchilada," the researchers wrote.
Further dangers lurk in the four sensor modules used to produce the Fire Phone's 3D display effects. Those sensors, which track the user's proximity, help to calibrate the display in order to let the Fire Phone create the 3D image for the user's eyes.
Researchers at iFixit were able to produce a demonstration video showcasing just how the sensors operate.
While the sensors help to create one of the Fire Phone's defining features, they also make repairs difficult. Teardown researchers found that the four sensors each had to be carefully calibrated in order to function properly and as such were glued into the device and difficult to remove.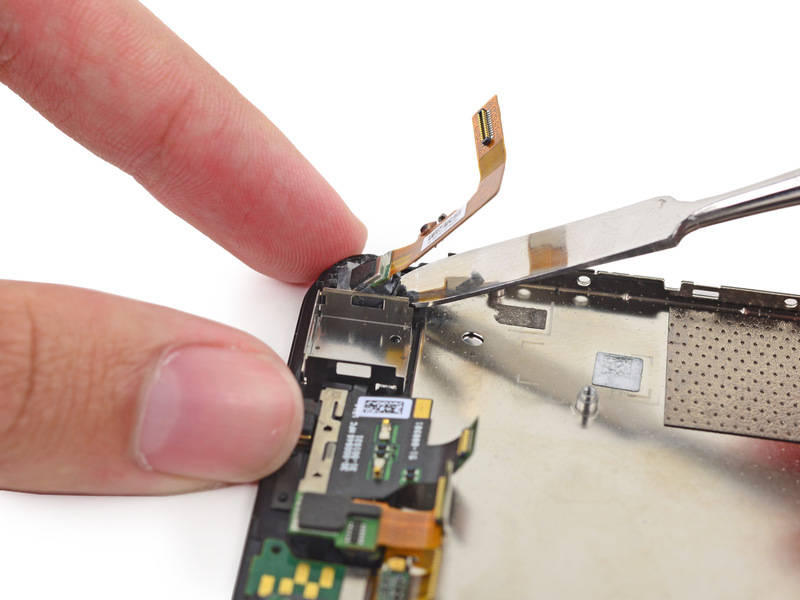 Those sensors don't come out easy
credit: iFixit
Those sealed-in sensors, combined with features such as difficult-to-access proprietary screw and the network of internal cables which can connect multiple hardware components, soured researchers on the repairability of the Fire Phone.
While not particularly encouraging for home hackers, the score is at least higher than mobile devices such as the Surface Pro 3 and the iPad Air, which were deemed practically unrepairable. ®