This article is more than 1 year old
Audio tech upstart DTS takes on Wi-Fi speaker juggernaut Sonos
Wireless speaker tech market gets feisty
Audio tech supplier DTS is taking on Sonos' wireless speakers with its Play-Fi tech, which it claims employs open and lossless audio technology.
DTS doesn't make its own kit, but rather develops and licenses its technology to OEMs who sell consumer brands.
The latest OEM to jump aboard the DTS ship is the Fine Sounds Group with its McIntosh, Sonus Faber and Wadia audio system brands.
DTS, or Digital Theater Systems started out making cinema surround sound systems. We're told it was originally funded by movie director Stephen Spielberg - it provided the sound for Jurassic Park - and DTS' audio tech is deployed in car audio systems, digital media players, DVD players, game consoles, home theatres, PCs, set-top boxes, smart phones, surround music content and it's the mandatory audio format in the Blu-ray Disc standard.
Fine Sounds' brands will now use DTS technology to provide its Play-Fi wireless streaming capability. Music sources, such as internet radio stations and music streaming sources, DLNA media servers and a listener's own devices can stream music over standard Wi-Fi, using the DTS/Fine Sounds tech mashup, to speakers throughout a house.

That is standard Wi-Fi, by the way, and not a proprietary wireless network like Sonos Net.
This is controlled by controller applications running on said devices. Audio is streamed to any Play-Fi-connected speakers, hence it is open compared to proprietary wireless hi-fi systems like Sonos with its Sonos-brand speakers.
DTS also says the signal going to the speakers is lossless – unlike many others – and especially Bluetooth-based systems. Whether the system can take advantage of that to produce better sound depends upon the actual speakers, however.
The audio can be streamed such that all rooms in a house play the same music, or different songs for different rooms. It also supports multiple users, instead of being limited to a single user (smart device) controlling it.
Charlie Randall, the president of the Fine Sounds Group, said: "When it came to outfitting our products with Wi-Fi audio functionality, we wanted to make sure that we utilised a platform that not only offered the industry's most advanced features, but delivered the highest possible quality, capable of pleasing even the most discerning of ears. Being the most widely adopted multi-room, high quality Wi-Fi home audio ecosystem in the industry, Play-Fi was the right fit for us, and we are excited to be working with DTS to roll out our new products featuring Play-Fi connectivity later this year."
In other words, Fine Sounds is now about to able to compete with Sonos by adding DTS' Play-Fi tech to its speakers, and so avoids having to develop its own Wi-Fi technology.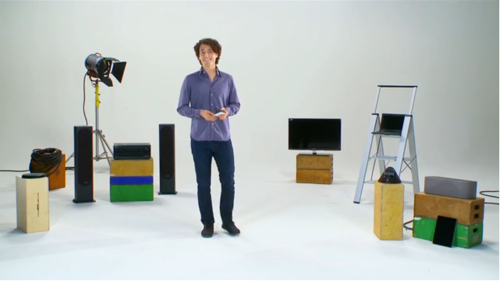 Click image to show DTS Play-Fi web page and scroll down it to find a playable Adobe Flash demo video about Play-Fi.
Play-Fi works inside the range of the building's Wi-Fi system, meaning it can work outside, an area of weakness for Sonos. There is a bias towards Windows and Android with DTS saying you can "Stream from every music service on the planet using Play-Fi drivers for Windows and Android. Additionally, download Play-Fi apps for Android, iOS, and Kindle Fire that give you access to over 20,000 radio stations, podcasts, local music, media servers, and select cloud-based music services. Set-up, link and control all of the speakers on the network from the same streamlined interfaces."
Note there is no Mac OS in the list.
DTS makes the point that there is no need for a Play-Fi device, like a proprietary bridge or router, to be connected to the building's Wi-Fi router: a clear dig at Sonos with its separate Bridge box needing a direct connection to the building's router.
Sonos is now developing bridge-free streaming to get over that "additional box" issue.
Yet the firm is now facing competition from Play-Fi-using suppliers, including Denon's Heos multi-room product range, Musaic, Bose and others. Our thoughts about how its product range might develop include: outside, battery-powered speaker support; headphone support; better TV Playbar and Play:1, Play:3 and Play:5 speaker integration; and improving its smartphone controller app. ®