Pinterest is generally used to store images of polka dot knickers, cute animals and bags of artisan pear drops. What might come as a shock to its users is that Pinterest is actually run by the same "stale, pale and male" clique often seen at the rudder of other big Silicon Valley.
The latest tech firm to release its diversity stats, Pinterest, has admitted its boardroom is mostly populated by white men.
While some 70 per cent of its users are women, and 40 per cent of its staffers, females make up a tiny 19 per cent of its leadership.
In the tech department, 79 per cent of staff are men, while across the wider company 60 per cent of employees are men (compared to Twitter's 70 per cent) and 50 per cent are white (compared to Twitter's 59 per cent).
"Hispanic" and "African American" staffers were also woefully under-represented: at 2 per cent and 1 per cent respectively. Census data pegs 16.3 per cent of the country's population as "Hispanic or Latino" and 12.6 per cent as "Black or African American".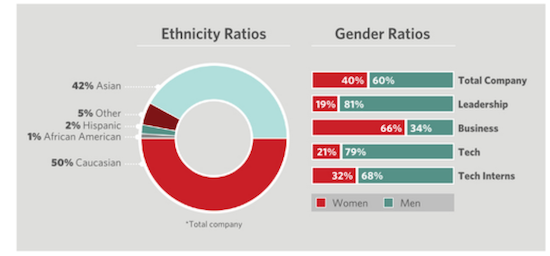 Gender stats: Pinterest isn't as female-friendly as its website suggests
But Pinterest can rest easy knowing it actually employs more women than Twitter, which also surrendered its employment stats recently.
In a blog post, Pinterest said: "While we've made some progress in diversifying gender at the company, we haven't done as well in representing different ethnicities, and we're focused on getting better. We still have a lot of work ahead of us to make Pinterest a global company, as we build a global product. However, we're excited to be a part of a broader movement in the tech industry to make it a more diverse and inclusive place."
The firm has just hired David Rubin as its head of marketing – a man best known for promoting lads' deodorant Axe in his previous job at consumer stuff behemoth Unilever.
We had a quick look through the most popular posts on Pinterest at the moment and struggled to find a single male poster. Cats scored well, as did images of women with flowers in their hair. Cheesy lying slogans like "the secret of success is constancy of purpose", written in florid calligraphy, also featured strongly. ®