Jurassic squawk: Dinosaurs were Earth's early feathered friends
Boffins research: Ancient dinos may all have had 'potential' fluff
---
Pic Boffins now reckon it's possible any or all dinosaurs sported feathers, after finding the first ever example of a dino with feathers and scales.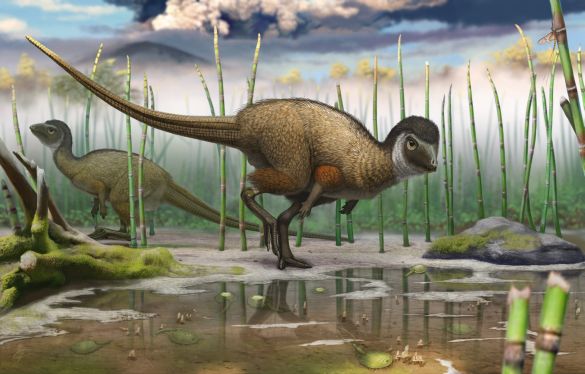 Kulindradromeus zabaikalicus, a plant-eating feathered dinosaur
Before now, only flesh-eating mighty lizards were known to have been fluffy, but the newest feathered discovery, made in Russia, is the plant-eating Kulindradromeus zabaikalicus.
"I was really amazed when I saw this," said Pascal Godefroit, a scientist at the Royal Belgian Institute of Natural Sciences and lead author of a paper on the dino.
"We knew that some of the plant-eating ornithischian dinosaurs had simple bristles, and we couldn't be sure whether these were the same kinds of structures as bird and theropod feathers. Our new find clinches it: all dinosaurs had feathers."
Previously, the only ancient feathered lizards to be found have been theropods – carnivorous dinos that include the direct ancestors of birds. This discovery suggests that feathers were widespread, probably first cropping up during the Triassic period for insulation and signalling, and only later being used for flight. Smaller dinos were probably covered in feathers, which may have been lost as the species grew up and became larger.
Kulindradromeus has reptile-like scales on its tail and shins and short bristles on its head and back, but most astonishingly, it also has complex compound feathers on its arms and legs. The dino's remains were found in the Kulinda site in 2010 and excavated by a Russian-Belgian team of boffins.
The feathers were studied by Dr Maria McNamara of University College Cork and Prof Michael Benton of the University of Bristol, who also examined the plumage of the first feathered dinosaurs found in China in 1996.
"These feathers are really very well preserved. We can see each filament and how they are joined together at the base, making a compound structure of six or seven filaments, each up to 15mm long," said Dr McNamara.
Another feather expert, Danielle Dhouailly from the Université Joseph Fourier in La Tronche, France, said that the Kulinda dinosaur's feathers were similar to the down on some modern chickens.
"When we compare them with the leg scales, it looks as if the scales are aborted feathers, an idea that has been suggested to explain why modern birds also have scaly bare legs," she said.
Kulindadromeus was a small plant-eater, only about 1m long with long hind legs, short arms and five strong fingers. Its snout was short, and its teeth show clear adaptations to plant eating.
The full study, "A Jurassic ornithischian dinosaur from Siberia with both feathers and scales", was published in Science. ®