Disaster Recovery upstart joins DR 'as a service' gang
Quorum joins the aaS crowd with DRaaS offering
Disaster recovery company Quorum uses a customer's second site or its own cloud site to provide the user with backup and DR location for physical and virtualised server customers, and claims one-click recovery through its on-site onQ appliances.
According to the biz, the highly available appliance "clones your servers right onto our appliances and provides instant recovery of your business applications after any storage, system or site failure. … you can test it under real-world scenarios any time. Backup just can't do that."
The onQ software keeps up-to-date copies of all the user's operating system, application and data files on both the local and remote appliances, plus ready-to-run virtualised server clones or Recovery Nodes.
If there is an on-site or whole-site failure, these recovery nodes in the on-site onQ appliance or the DR site are fired up, and users reconnected to them in as little as five minutes, perhaps less. Its DR-as-a-service and test runs take as little as 15 minutes, Quorum claims.
Fully deduplicated system snapshots can be taken at 15 minute or larger intervals, meaning RPOs (Recovery Point Objectives) can be as low as 15 minutes. All data set to the DR appliance is compressed and encrypted for transmission through an SSH tunnel.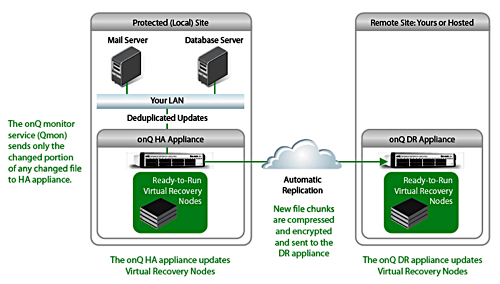 Give your eyes a rest and click the pic to get a larger version
A brief Quorum history:
2008 - Founded as a private and venture capital funded spin-out from Themis Computer and based in Fremont and San Jose. Total funding to March 2013 was $17.1m (Crunchbase).
September 2010 - Larry Lang becomes CEO.
March 2013 - B-round of $11m led by Toba Capital.
November 2013 - $10m C-round led by Toba Capital again, with Toba venture partner Walter Angerer becoming interim CEO, replacing Larry Lang.
Gains PCI-compliance for its DRaaS, meaning its secure for payment card industry users.
May 2014 - Edward Sharp, ex-NetApp, become CEO. David Fisk appointed as EMEA sales director. EX-CEO Walter Angerer stays on board.
Quorum's technology has software in the protected servers that is application-agnostic and "does not use block-by-block disk imaging technology. It uses integrated operating system features to detect changed files and then [uses] … deduplication and sub-file-level incremental update technologies to transfer only changes to the appliance."
A typical configuration involves a pair of appliances, one local and one in the DR site, with pricing under $25,000. The HA appliance can protect up to 45 servers. Appliances come in a range with 1 and 2 U rackmount shelves or towers.

onQ appliance
What applications and operating system environments can be backed up and restored by Quorum onQ? Two basically: Windows servers and RedHat Enterprise Linux 5.6 to 5.8.
Regarding competitors, the list probably includes all other cloud recovery suppliers such as Rackware, Unitrends and Zerto. A Quorum spokesperson mentioned Unitrends and claimed:
Unitrends does not have instant recovery. They have a 12-step recovery plan while Quorum allows you to backup/recover data in one click and just seconds.
Quorum's integrated, automated testing feature lefts you test your backup and recovery daily.
Quorum is PCI-compliant. The PCI standard comes from the Payment Card Industry (PCI) Security Standards Council which has created a set of data security standards applying to all businesses that handle, process, or store credit or debit card information.
Get a demo here and a data sheet (PDF) here. ®