This article is more than 1 year old
Porsche Panamera S E-Hybrid: The plug-in for plutocrats
It's amazing what swapping batteries can do
Review Porsche has been messing about with hybrids for a few years now. You could even go back as far as 1943 with the Ferdinand Elefant tank destroyer that had a hybrid electric drive.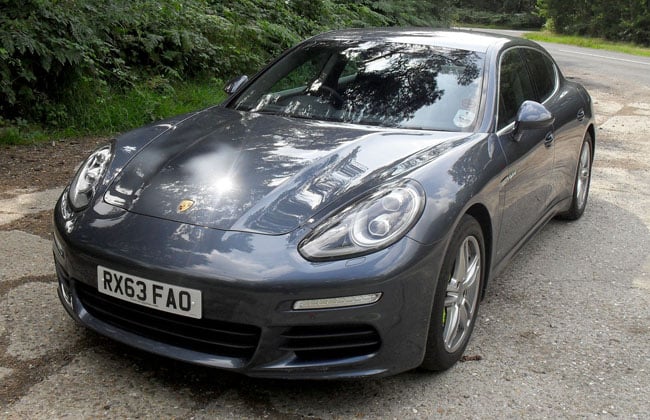 Porsche Panamera S E-Hybrid: no more nickel-metal hydride batteries here
The company's more recent efforts, the first generation models like the Panamera S and Cayenne S Hybrid, were rather lame affairs. Puny electrical motors and nickel-metal hydride batteries combined to get absolutely nobody excited.
These days, things are looking very different as we now have the stunning, if biblically expensive, Porsche 918 Spyder and a plug-in hybrid Panamera, which are altogether more interesting. Evidently, Porsche is serious about this whole electric car malarkey. To find out for sure, it's time to hit the highway in Stuttgart's über-hybrid.
First let's get the matter of looks out of the way. Is the Panamera a pretty car? Nope. Handsome? Maybe, if seen from the right angle. But is it really any more disturbing to the eye than a big BMW or Mercedes or Audi? Not really.

Not exactly pretty but erring towards handsome
Only one car maker builds truly attractive large saloons and that's Jaguar, so let's not bang on about how much of a blot on the landscape the Panamera actually is. It's big, imposing, clearly German and has hints of 911 about it and that's probably what potential owners want.
Under the bodywork, Porsche's parallel hybrid system has changed quite a bit. The electric drive part of the equation now produces 95bhp (70kW) which is more than double the power of the previous model's 47bhp/34 kW electric motor. The 'leccy motor also now draws its energy from a lithium-ion battery pack which at 9.4kWh has more than five times the energy capacity of the previous model's nickel-metal hydride power pack.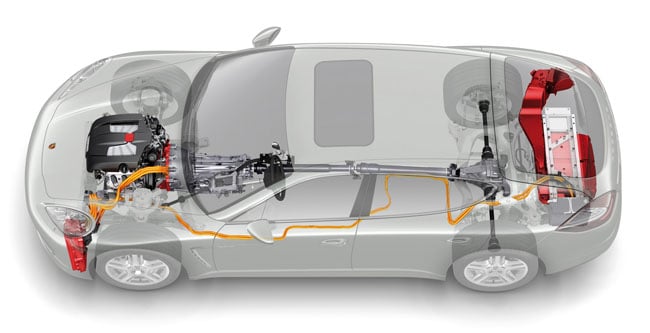 Battery and drive wheels all at the back
And of course you can now plug your Panamera into the mains as you can Toyota's Plug-In Prius, a car particularly close to the new Panamera hybrid in spirit and engineering, if not performance and price. Thanks to that plug-in facility, the Panamera S E-Hybrid is now a far more economical bus. It's also a wee bit more slippery through the air: the new hybrid has a drag coefficient of 0.29 rather than the 0.30 of the rest of the Panamera range.
According to the New European Driving Cycle (NEDC) test, fuel economy has increased by 56 per cent to 91mpg (38.7kmpl) while CO2 emissions have dropped to 71g/km. Of course, matching those figures will depend on you charging the Panamera the same way. Charge it more frequently and the economy will improve. Less frequently, probably the more likely scenario, and it will drop.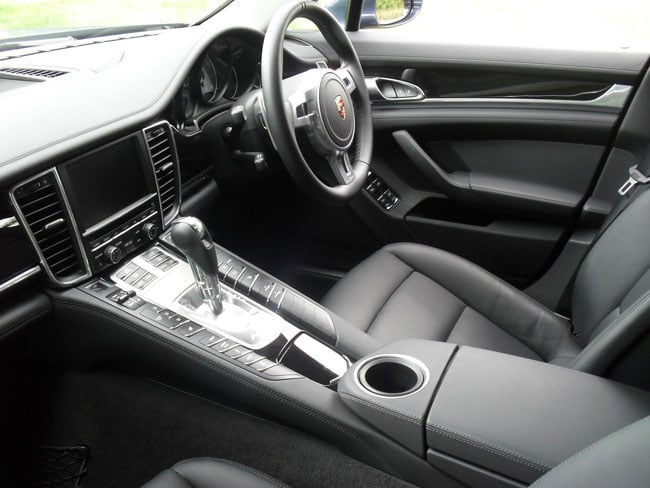 The cabin is very well appointed
In a day spent driving the Panamera in all its available modes (and there are quite a few, see below) I averaged 38.7mpg (16.4kmpl) over 200 miles (322km) and still had an indicated 5 miles (8km) of electric range left when I reluctantly handed back the keys. I've no doubt I could have improved on that with a bit of effort.