The Pirate Bay has poked Big Content's sore spot again, by erecting a site for mobile devices at themobilebay.org.
The new site doesn't do much beyond features offered by The Pirate Bay's other ventures. The site's overseers told Torrent Freak that "The normal version of the site renders like crap on mobile devices", an experience the small-screen version seems designed to improve.
BitTorrent clients exist for Android, iOS devices, and BlackBerry, so the existence of a mobile site does make it possible more torrents will land in mobile devices.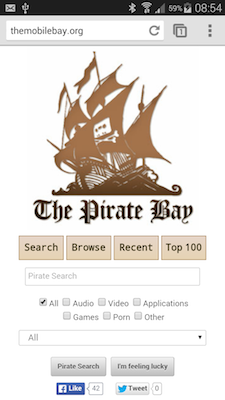 Yarr! There be copyrighted content!
Big Content hates The Pirate Bay with a passion. The creation of a mobile site may add mobile carriers to the site's list of sworn enemies, as such outfits struggle to cope with existing volumes and flows of wireless traffic. Anything that encourages users to download big files while on mobile networks is likely to get carriers rather testy.
Which appears to be just the state in which The Pirate Bay prefers anyone that doesn't share its aims to experience. ®
Similar topics