Only 6 per cent of broadband homes are "moderately" or "highly likely" to buy a 4K TV, and 83 per cent of consumers are completely unfamiliar with the term Ultra HD.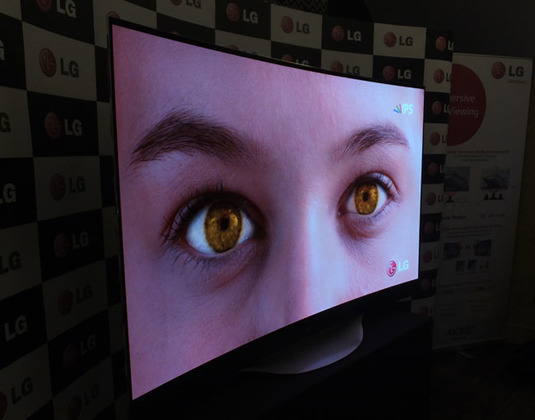 LG's 77EC980V Ultra HD 4K OLED TV... pricey but beautiful
These are the major findings from a new report from The Diffusion Group (TDG) and should be particularly worrying for any business pinning its hopes on 4K revitalising TV sales.
TDG says short term demand for 4K is inhibited by the lack of awareness and hindered by the prices of the sets, which range from $1,500 at the low end to $10,000 for OLED 4K units. TDG found that even those consumers who were aware of the benefits of 4K were put off by the price.
The report found that in a line-up of a $999, $1,499 and $1,999 units, only 3.4 per cent of respondents would definitely purchase a $999 4K TV, while 8.9 per cent were moderately likely to purchase one and 10.5 per cent were slightly likely to purchase – a total of 22.8 per cent of homes that might just spend $1000 on a 4K TV, which may worry Vizio and its upcoming P Series of "affordable" 4K sets. At the higher price point of $1,999, only 1.3 per cent were definite purchasers, 1.9 per cent were moderately likely and 4.9 per cent slightly likely to purchase.
At the mid-point TV, the respective figures were 2.1 per cent, 4 per cent and 10.5 per cent. This means that in the current market, where the cheapest 50-inch model from Seki started at a MSRP of $1,499 but has since dropped to $500 in Walmart, largely due to its poor features and picture quality. CNET was not a fan of the TV, but the next cheapest 4K TV from a big-name brand was a 58-inch LCD from Toshiba for $2,700, which at least had a 60Hz refresh rate and HDMI 2.0, unlike the barebones Seiki.
While the prices are coming down slowly, with Samsung only charging a $500 premium on its flagship 55-inch TV for 4K, only 17.1 per cent of broadband households are likely to buy a $1,500 4K TV. Only 6.1 per cent can be reasonably expected to buy one, and given the quality of the panels at this price point, we suspect that a significant chunk of that 6.1 per cent would be unhappy with their purchase.
TDG president Michael Greeson said: "This explicitly quantifies just how poor the demand for Ultra-HD televisions actually is, and clearly demonstrates that current prices are too high to stimulate new sales. Price is the two-to-one primary reason given by those unlikely to buy a UHD TV."
Greeson added that "the next closest reason for a lack of interest was that non-buyers were perfectly comfortable with the televisions they currently use," which accounted for 26 per cent of respondents in the unlikely-to-buy section.
"There is no doubt that poor demand for TVs in general has impacted demand for Ultra-HD sets in particular. It would seem that UHD is falling far short of being the panacea the industry expected and needed."
But this isn't an issue entirely brought about by the TV OEMs. We've been saying for a while that 4K looks doomed unless there is a radical improvement in the last mile connection speeds of the average broadband home.
This is because Netflix requires a 15.6Mbps connection to stream its 4K content OTT and most homes don't achieve this currently. The option of downloading the file at a slower speed for playback at a later time is also not a feasible long-term option given the size of the files involved and the impact on user data caps. OTT 4K isn't an option now.
But neither is 4K on pay-TV, as we've yet to see a 4K channel appear on satellite or cable. Both mediums could be adapted to push 4K content to viewers, given that they both are capable of supporting the necessary bandwidth, but here we get to that chicken-or-the-egg scenario: why would the profit-hungry pay-TV operators bother investing in 4K content if 4K market penetration is so poor?
So it looks like there needs to be a concerted effort to convince consumers of the benefits of 4K, or at least try and improve on that 83 per cent awareness figure.
A consumer will only opt to buy a more expensive set if they perceive a benefit, so 4K will continue to lose out to Full HD until consumers can be persuaded to spend the extra on a UHD panel.
But given the complacency and the lack of 4K content, as well as the distribution issues that are behind the latter issue, UHD has a considerable hill to climb if it wants to increase its sales figures.
Copyright © 2014, Faultline
Faultline is published by Rethink Research, a London-based publishing and consulting firm. This weekly newsletter is an assessment of the impact of the week's events in the world of digital media. Faultline is where media meets technology. Subscription details here.