Blundering Scottish cops have interrogated a prolific tweeter hours after he tweeted a few innocent comments about the Commonwealth Games.
Neil Cooper, who tweets under the handle @DasBomber, wrote a number of tweets during the opening ceremony of the Commonwealth Games week that appeared to attract the attentions of the lawmen in Glasgow.
As well as discussing the decision to hold the ceremony in Celtic Park, a football ground at the heart of the long-running sectarian rivalry in the city, he also jokingly mentioned plans (by the council) to blow up a tower block during the Commonwealth Games opening ceremony.
"Wish they blew up the flats now," he wrote. Had the police read Cooper's feed in its entirety, they would have realised he was referring to Glasgow City Council's plan to demolish the Red Road tower blocks during the opening ceremony – a plan opposed by thousands of locals.

It was this tweet which appeared to attract the attention of Police Scotland, the united police force which recently replaced eight regional plod squads north of the border.
Although the cops stopped short of kicking Cooper's door down, he tweeted that they'd turned up at his house in the middle of the night, reportedly knocking on his door at about 1am the morning after the ceremony.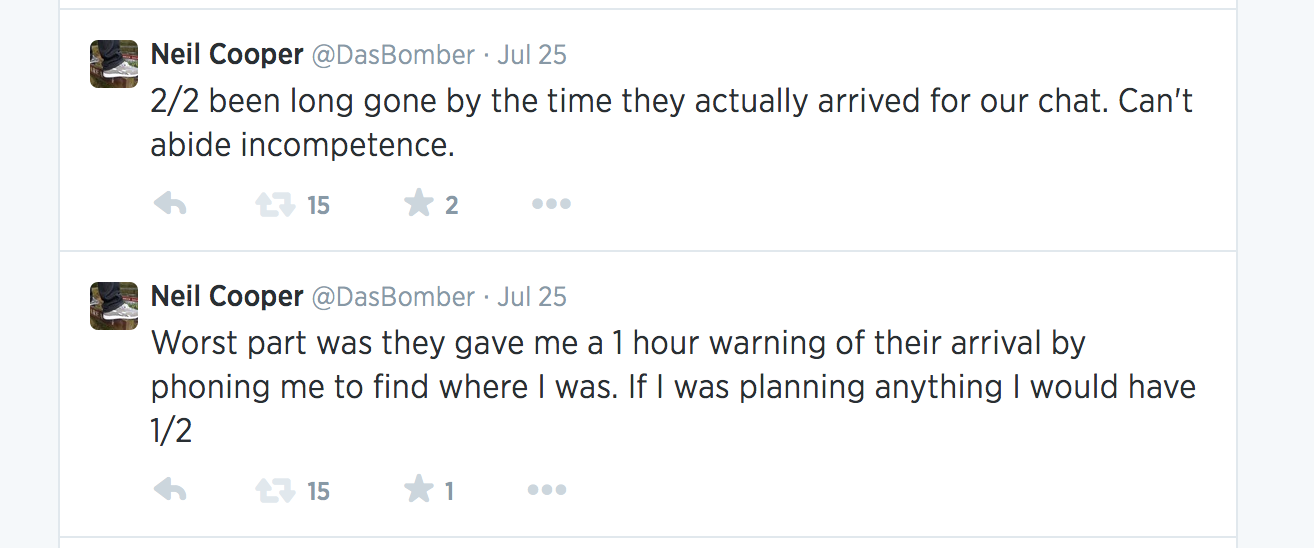 Cooper tweeted that the police had been clutching "a bit of paper with my photo on it, my full name and the heading 'target'", and had interviewed him for several hours. He wrote that he'd been made to explain his tweets about "the green brigade", a derogatory nickname for Celtic.

According to his Twitter feed, Cooper is originally from Aberdeen, although he currently lives in Glasgow. Since the incident, Cooper has changed his Twitter description to "a target for GCHQ and Police Scotland".
He refused to speak further about the incident, telling The Register he had "said all I've got to say on the matter".
A spokeswoman for Police Scotland confirmed its officers had visited Cooper. We understand Cooper has not been charged with any offence.
Here are some of Cooper's tweets posted during the Commonwealth Games opening ceremony: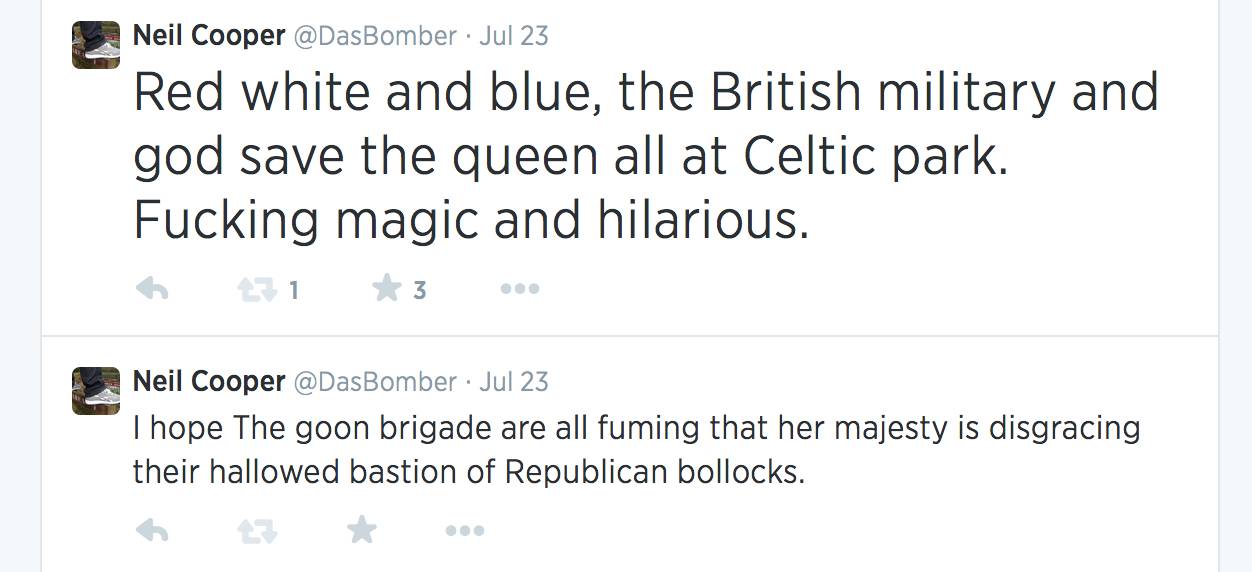 The Scottish administration have been clamping down on online sectarianism in recent, with laws passed in 2012 which criminalise "threats of harm being posted on the internet". These local laws work alongside the UK's much misused Communications Act 2003. ®
Similar topics