HGST polishes Ultrastar SSD whoppers, stuffs with denser Intel flash
They read faster but write slower
---
HGST has refreshed its Ultrastar enterprise SSD line, using denser 20nm NAND to replace the previous 25nm flash, doubling capacity, upping read performance but lowering write performance a tad in the process.
The starting point was a three-product Ultrastar SSD800 line-up, maxing out at 800GB and coming in MH (write-intensive), MM (mainstream read/write balanced) and MR (read-intensive) variants. These were targeted at server and storage applications and came with 25, 10 or two full drives writes/day for the five-year warranty period respectively. That's not changed and neither has the two million hours mean time between failures rating.
What has changed are the capacity, random IOPS and sequential bandwidth numbers.
The SSD800MH.B stays an 800GB max capacity drive with 100GB, 200GB and 400GB variants. The SSD1600MM goes up to 1.6TB starting from 200GB and passing through 400 and 800GB capacity points en route. The SSD1600MR needs less flash cell over-provisioning and has 250GB, 400GB, 500GB, 800GB, 1TB and 1.6TB versions.
In general, random read IOPS and sequential read bandwidth numbers are down while both random and sequential write numbers are up, as this table shows:

Comparative IO numbers for gen 1 Ultrastar SSD range and (lower trio) gen 2 Ultrastar SSD line.
The security options for these 12Gbit/s SAS interface drives include:
Instant Secure Erase (ISE),
Self-Encrypting Drives (SED),
TCG enterprise SED with FIPS (Federal Information Processing Standard) 140-2 certification.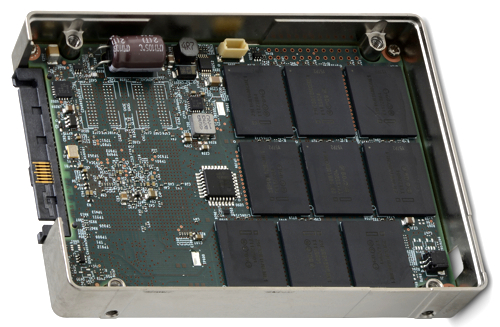 Ultrastar SSD1600MH
The NAND comes from Intel and is enterprise-grade eMLC. This is the same Intel that just launched its Pro 2500 notebook SSDs using 20nm SK Hynix MLC NAND.
HGST recently launched 1.8TB C10K800 disk drives in the same 2.5-inch form factor and with the same 12Gbit/'s SAS interface.
The faster Ultrastar C15K600 disk drive spins at 15,000rpm and would seem to have its obsolescence brought closer by these new SSDs.
Fast-forward a year or so and we might see 3.2TB UltraStar SSDs making the C10K800 disk drive obsolete - or doing the same to its possible C10K1600 successor, unless there are significant TCO differences between them, such as the disk drives being much cheaper than SSDs for total cost of ownership/GB.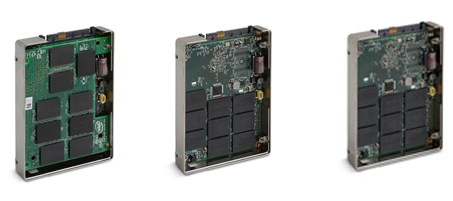 L-R: Ultrastar SSD800MH.B, 1600MM and 1600MR.
Concerning today's news, HGST's Ulrich Hansen, SSD product marketing VP, visited the quote cannery and fished this out: "As our OEM, cloud and enterprise customers implement solutions to meet a variety of storage needs, SSDs and HDDs will increasingly be deployed in tiered pools of storage based on respective TCO strengths. HGST is in a unique position of offering a complete enterprise storage portfolio with leading solutions in both product categories."
You can get downloadable PDF spec sheets here – no registration required.
These new drives are currently completing qualifications at several server and storage system OEMs and are generally available now. ®