This article is more than 1 year old
LOHAN's stirring motto: Ad Astra Tabernamque
Spaceplane team off to the stars and the pub: Official
It's official: The stirring motto for our audacious Low Orbit Helium Assisted Navigator (LOHAN) ballocket mission is Ad Astra Tabernamque.
The public vote came down firmly in favour of us heading both to the stars and the pub, and we're not going to argue with that.
Per Cervisiam Ad Astra ("Through Beer To The Stars") and Tugurium Terminum Nescit ("The Shed Knows No Bounds") secured second and third spots respectively.
The motto creation process proved highly entertaining, peaking in sheer delightfulness in what was the first comment thread to ponder the ablative of WD-40, the legitimacy of the Latin -que suffix - with reference to Tacitus' Germania, naturally - and just what the Romans ever did for us if they had no word for "ballockets".
Good work all round, and thanks to everyone who chipped in their two sestertii' worth. Those responsible for the final poll selection will receive a copy of the embroidered patch as soon as it's lovingly machine-hewn from the living thread.
We currently have top operatives working the motto into the final design and doing a few tweaks, after which we'll be able to reveal the patch before the graphic is dispatched to the house of embroidery. ®
Bootnote
We know what you're thinking. To truly fulfil the motto's ethos, we must consider just how to construct the first space boozer. However, before chartering rockets to lift payloads of bar stools, fruit machines and small bags of peanuts aloft, there's one challenge we have to tackle.
Rocket boffin Chris Smith recently sent some London Pride heavenwards, and here's what happens when it's exposed to vacuity and brass monkeys cold: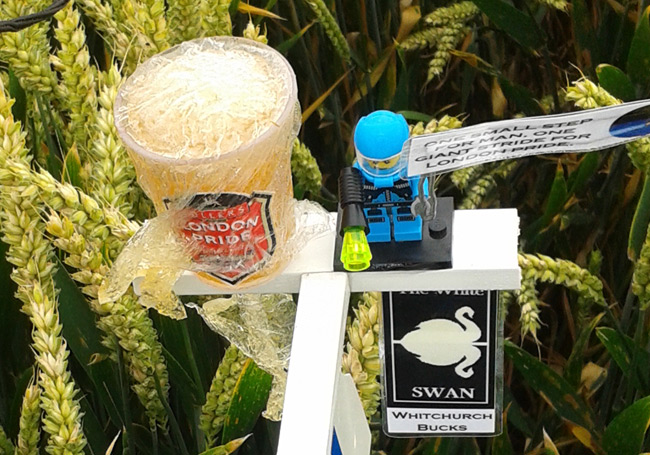 Well, there's no way we're going to get away with serving that, so it's off to the lab for some preliminary zero-grav, ultra-low-temperature brewing.
---
More from the lovely LOHAN:
---