A new outfit launched in Auckland, New Zealand, believes that by next year it'll be ready to sling satellites spacewards for as little as $5m. The only hitch is its need to recruit a few rocket scientists – ah, about 30 – who are prepared to relocate to New Zealand.
Rocket Lab has just kicked off an American presence to help the project get off the ground, but in the meantime it's hoping to recruit 30 rocket scientists to Auckland, the largest city in the sparsely populated Land of the Long White Cloud, in what it calls a reversal of the brain drain.
According to the New Zealand Herald, founder and CEO Peter Beck reckons the use of carbon fibre materials, a scaling-down of capacity in line with shrinking satellite loads, and a favourable launch location in NZ make the project feasible.
Rocket Lab's low-cost launcher is made of carbon-composite and will cost less than $5m (NZ$5.84m), it says. It normally costs over $100m to send satellites into space.
According to the CEO, it isn't having any trouble recruiting rocket boffins to the country where The Lord of the Rings trilogy was filmed, which is home to just 4.4 million souls: "We're sucking in rocket scientists left, right and centre," the newspaper quotes Beck as saying.
In 2012, Rocket Lab showed off its work on a DARPA "high density monopropellant" project, firing a Sidewinder-size test rocket 10km into Harukai Gulf.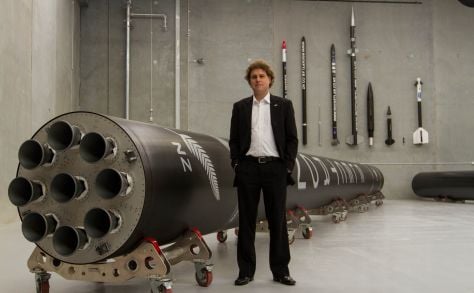 Rocket Lab's Peter Beck with a model of Rutherford. Image: New Zealand Herald
The Electron launcher, powered by motors the outfit calls "Rutherford" after New Zealand-born physicist Ernest Rutherford, won't be using the DARPA propellant. Rather, it'll be powered by rocket-grade kerosene and liquid oxygen, with a claimed 13.3 kilonewtons of thrust at lift-off.
Each Electron will be fitted with nine of these engines, dubbed Electron, with Rocket Lab claiming that it can suffer "a complete engine loss before launch and still complete its mission". The second stage of the rocket runs a single Rutherford engine with a nozzle designed for vacuum operation.
If it can hit its $5m launch target, Rocket Lab thinks it'll be able to conduct 100 launches annually.
It's clearly targeting the micro- and nano-satellite market, with a payload of 110kg. As with all rockets, Electron is mostly fuel: of its 10.5 tonne launch mass, 9.2 tonnes will be propellant. ®