Live Chat Our previous article about goTenna, a new device which allows mobile phones to communicate without signal, stirred up a lot of interest from readers and fellow journalists.
goTenna CEO Daniela Perdomo and her brother, CTO Jorge Perdomo, held a live chat on El Reg this Friday, 1 August, at 3pm BST.
Daniela Perdomo has worked in tech startups for over five years, in a variety of roles encompassing marketing, user acquisition, project management, product development, and biz dev. In her current role as CEO of goTenna, she leads business development and marketing initiatives.
Jorge Perdomo is a systems architect whose name is on the patents that govern goTenna's core technology. He previously worked as a data analyst and solutions architect.
As CTO of goTenna, Jorge heads up the product team and is in charge of developing and refining goTenna's patented technology.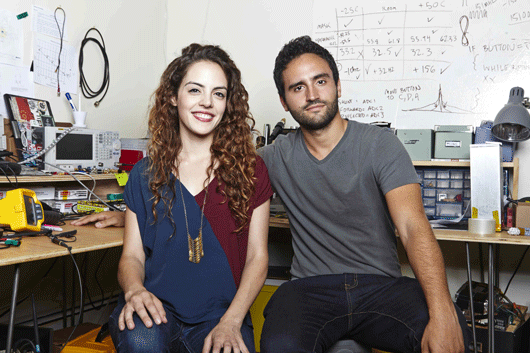 The idea for goTenna came about during Hurricane Sandy in October 2012 when a quarter of all cell towers were downed in the severe weather conditions. When electricity supplies as well as internet connections went down, millions of people across the 10-state area affected by Sandy were left unable to communicate right when they most needed to.
The brother-and-sister team realised the clear need for people to be able to communicate directly without relying on an installed network.
goTenna is a small, rugged two Watt Radio that pairs wirelessly with your smartphone using Bluetooth Low Energy (BLE) and micro USB for a wired connection or charging. The firm says: "It works anywhere on the planet, regardless of whether a cell signal or Wi-Fi is available."
It works by using store and forward, holding messages in flash memory before passing them on to the phone, so the phone doesn't need to be connected to the network. goTenna is small, at 147.3mm x 25.4mm x 12.7mm, although an extendable antenna which adds another 56mm to the length is available. The unit weighs in at 57g without the extendable antenna.
goTenna has apps for iOS7 and above and Android 4.x and later. This gives you the ability to send and receive text and chat messages for free with end-to-end encryption (AES-128 public-private key ciphering) and self-destructing messages, share locations on offline maps, and communicate instantly - either point-to-point or broadcast - with a number of users. You can also use a ping to locate other users.
Soon after developing its first working prototypes at NYC Resistor, a hardware hackspace in Brooklyn, goTenna went official and hired its first employee. After bootstrapping its way through almost a year of development, the company raised a seed round of venture capital. Investors include Bloomberg Beta, Collaborative Fund, Brooklyn Bridge Ventures, Andreessen Horowitz, and MentorTech Ventures.