Sneaker-maker Reebok cooks up performance-enhancing BACON
Let's all go for a run. Now.
---
Sports shoe maker Reebok is getting into the bacon business.
The move into delicious salted pork parts isn't a diversification. Instead, the company is targeting devotees of the CrossFit cultfitness craze, who often adhere to a "paleo" diet that's heavy in protein and light on carbohydrates.
Ad-slinging chronicle AdWeeksuggests that Reebok is bringing home the bacon because most people associate with aerobics, leg-warmers and other crimes against human movement and fashion. By hooking into the twin trends of bacon fetishism and CrossFit, the company gives itself a chance to hang with the cool kids.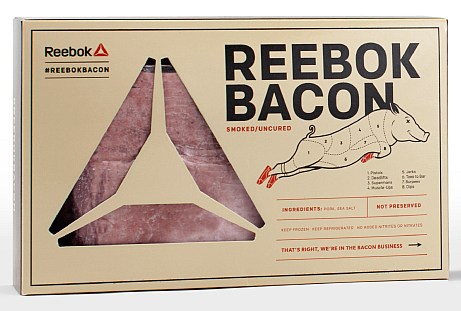 Mmmmm … sport bacon
Reebok Bacon promises to offer lots of protein, but no sweeteners, monosodium glutamate, nitrates or nitrites. The latter four substances are the kind of chemical diet-and-exercise conscious folks try to avoid.
There's also a claim that Reebok Bacon is "not preserved", which may be at odds with another claim that the product is "smoked".
Reebok has even created a special box wherein nestles both bacon and dry ice to keep it fresh.
Sadly not everyone will be able to get their teeth on this product, as Reebok is using it as a promotional thing around California.
Which makes Reebok Bacon all sizzle, but no … erm … steak. ®