Tesla and Panasonic to build NOT-SO-SECRET GigaFactory in US
This'll help me flog more 'leccy motors, says Elon Musk
---
Tesla has signed a deal with Panasonic which will see both firms collaborate on the construction of one of the world's biggest battery factory.
The GigaFactory, as it's been called, will build lithium-ion batteries to satisfy an anticipated boom in demand for electric vehicles. Tesla hopes that the GigaFactory – located in Reno, Nevada – will not only enable the firm to make more batteries than the competition, but drive down their cost.
Under the terms of the new agreement [PDF], Tesla will provide and manage the factory and its facilities, while Panasonic will supply the machinery to make the batteries.
In the meantime, Tesla will continue to buy batteries from Panasonic's facilities in Japan whilst they work out the finer details of the production process.
Half the space in the Gigafactory will be dedicated to Panasonic's battery production whilst the rest will be given over to Tesla's assembly facilities.
JB Straubel, chief technical officer and co-founder of Tesla Motors, said: "The Gigafactory represents a fundamental change in the way large scale battery production can be realized. Not only does the Gigafactory enable capacity needed for the Model 3 but it sets the path for a dramatic reduction in the cost of energy storage across a broad range of applications."
Currently, Asian countries are leading the way in the production of batteries. But Tesla reckons its Gigafactory could end up producing more batteries in one location than all the other firms manage in all their facilities, a claim it has backed up with the following graph.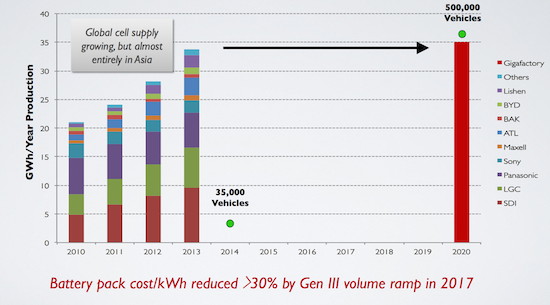 Yoshihiko Yamada, executive vice president of Panasonic, added: "We have already engaged in various collaborative projects with Tesla toward the popularization of electric vehicles. Panasonic's lithium-ion battery cells combine the required features for electric vehicles such as high capacity, durability and cost performance. And I believe that once we are able to manufacture lithium-ion battery cells at the Gigafactory, we will be able to accelerate the expansion of the electric vehicle market."
All in all, the Gigafactory is planned to produce 35GWh of cells and 50GWh of battery packs per year by 2020, employing some 6500 people.
The Gigafactory has been in the offing for some time now, with Tesla previously indicating it would take $4bn to $5bn to build, with $1.6bn raised by a bond issue. ®